Spotify is the largest music streaming platform in the world, and the fact that you can discover so many new and unknown artists is one reason why. Today, we're going to explain how to find the best unknown artists on Spotify. So let's begin…
Regardless of the genres you're interested in, identifying a Spotify playlist for finding new or unknown artists will provide plenty of options. However, one problem that many people bump into is that there are so many places to look for undiscovered artists.
This sounds like a great problem to have on paper, but it can result in not being able to make a decision. And because of this, you may find yourself in a position where you don't choose any of the playlists at your disposal.
If you currently find yourself in that position, fear not; we're here to help. In this guide, you will find out about some of the best undiscovered artists on Spotify. We'll cover a selection of newer musicians, along with some that have been around for a while – but aren't as well-known as they should be.
We'll cover a broad selection of genres in this guide, ranging from more established niches to others that you might not be too familiar with at the moment – but perhaps should be. If this sounds interesting to you, let's hop in and start assessing everything.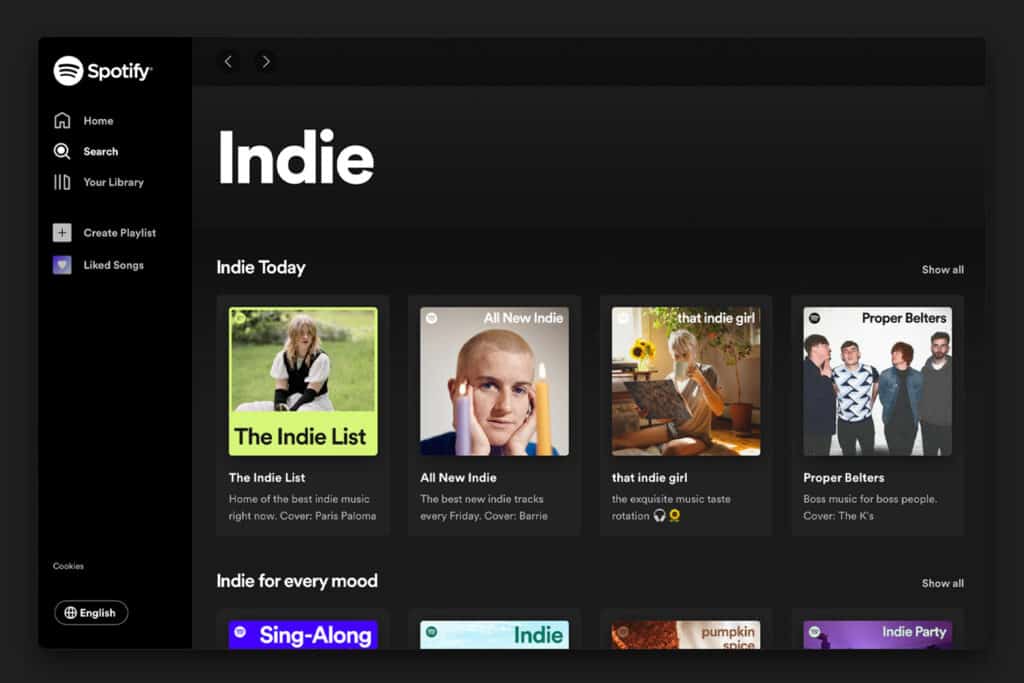 Indie
Indie is a very popular music genre, and many hidden gems have been found in this category. If you're looking for a good unknown artist, this is a good starting point. To make things easier for you to digest, we'll look at three artists and three playlists you can find these – and similar – creators.
Artists
Before we look at some of the best indie playlists for discovering unknown songs, let's look at some artists you should consider checking out.
Airiel
Airiel have actually been around for a while, originally beginning to make music in the late 1990s. Since then, the band has stayed relatively small when compared to more popular names in the space. However, that doesn't mean you should skip over their music.
When describing Airiel's music, we can say that it has a bit of a dreamy feel. It's something that you could put on in your room when relaxing in the evening, and it also works as music that can help you focus during your workday.
Airiel has the majority of its tours in the US if you decide that you'd like to see them live.
The Ivy
Another indie band that should be on more people's radars is The Ivy. The band also can fall into the pop genre, but either way, you should definitely check them out. The Ivy originates from Oklahoma, and they started posting music to Spotify in 2017.
The Ivy has a selection of frequently-played songs, such as Hurts Just Right and Have You Ever Been in Love. We should note that they're not to be confused with IVY, another Indie band that produced music between 1994 and 2012.
The Ivy has two EPs so far: Next Stop (2017) and Look Inside (2022). You'll also find a number of singles with songs for you to play in all kinds of settings.
Pool
Pool is another of the coolest undiscovered artists on Spotify. The band's music is best described as feel-good, and you'll definitely want to give them a listen when drinking beer in the park with your friends during the spring and summer.
You'll find several great songs, including Amsterdam and Moving On.
The band originates from Hamburg, Germany – and they've been working together since they were teenagers. Pool's members are Daniel Husten, David Stoltzenberg, and Nils Hansen. Pool has played with the likes of The 1975 and received recognition in various media outlets.
Playlists
Now that you know some of the best unknown indie artists on Spotify, let's look at some of the playlists where you can find them. You'll also find various other bands and songs just like them.
Actual underground indie jams
This playlist was created by a Spotify user and is updated relatively frequently. At the time of writing in March 2022, you'll find over 200 songs – making it the perfect playlist for your workday and if you have a long-haul flight coming up.
You will find a broad selection of artists, many of whom haven't yet gained mainstream recognition.
Some of the artists you can discover on the actual underground indie jams playlist include The Night Café, Moaning, The Magic Gang, and Petite League. Many of the songs feature English lyrics, but you'll find others in different languages as well.
Feelgood indie
When looking for playlists of new and unknown artists on Spotify, you might also have a certain mood in mind. If you're interested in songs that will improve your mood, consider checking out Feelgood Indie.
Spotify's editorial team put this playlist together, and you'll find hundreds of songs worth listening to.
Besides finding unknown artists, Feelgood Indie also includes a wide selection of songs from indie bands that you might recognize. Milky Chance and Two Door Cinema Club are two examples – and Kaiser Chiefs are another.
You will find artists from all over the world, including the US, the UK, and Germany.
Serotonin
Another place where you can find undiscovered indie artists is the Serotonin playlist. Like Feelgood Indie, this playlist was put together by Spotify. The main difference, however, is that it doesn't purely focus on indie tracks.
Nonetheless, you'll still find plenty of indie tunes – plus some other stuff that you might not previously have thought about.
The Serotonin playlist features dozens of songs, making it ideal if you want to soundtrack your morning or afternoon. The music is very easy-going, and it'll make you feel like you're drinking a cool drink on a beach in California.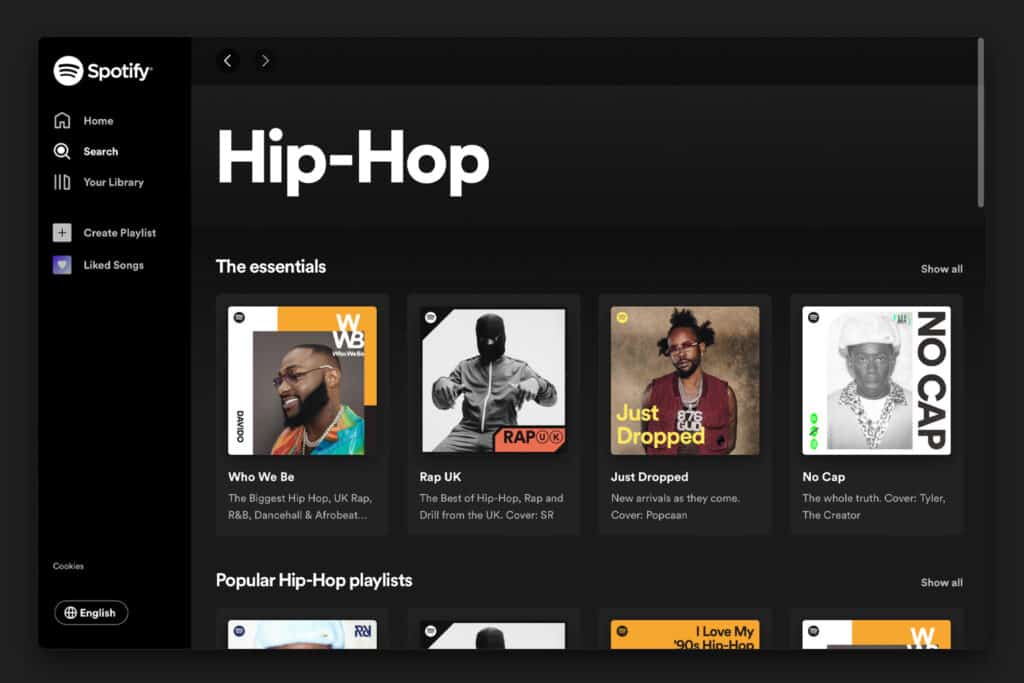 Hip-hop and rap
If you're into hip-hop and rap, but you want to find alternative tracks to mainstream artists, you've got plenty of options on Spotify. Below, you will discover three artists that you should consider giving a listen to.
Artists
Like the previous section, let's start by looking at some of the best undiscovered hip-hop and rap artists. We'll cover both English-speaking and non-English-speaking artists here.
Tyrias the Realest
The first of the best undiscovered artists on Spotify in the hip-hop genre is Tyrias the Realest. Listening to his music will likely bring a lot of nostalgia and remind you of some of the great hip-hop musicians from the 1990s.
Tyrias the Realest is from Miami, Florida, and launched his first album in December 2019.
Tyrias The Realest's music is great for listening to when you're chilling out on a beach or somewhere else in the sun. At the time of writing in March 2023, he's working on a new project that will drop in due course.
Jelle
Jelle is a young rapper from Belgium who has been making a name for himself over the past couple of years. His lyrics are primarily in Flemish, and he's a part of NONCHA Records, a label founded by one of his friends.
Jelle has played at a selection of venues in Belgium and is becoming well-known within the Belgian rap scene.
He raps over a wide selection of different beat types and is talented at delivering fast-paced lyrics along with more chilled tracks. Jelle has had various popular tracks so far in his career, such as "Koppig", "Bebouwde Kom", and "Bijnaam".
Werenoi
Werenoi is relatively well-known in the French-speaking hip-hop scene, but you might not have heard of him if you're not familiar with that particular genre. He's got a large fanbase in both France and Belgium and recently released Carré – his second album – in 2023.
The rapper's music style is largely cloud rap, which refers to dreamy-style and laid-back beats. These beats often have a hint of trap in them as well. Some of his best songs include Solitaire, 10.03.2023, and Vulgaire.
Werenoi's tours cover many parts of the French-speaking world, including Switzerland and numerous cities in France – such as Paris and Rennes.
Playlists
With some of the best hip-hop artists that you might not have heard of uncovered, let's look at some of the playlists that you'll find them on.
New Finds: Hip-Hop | Rap | R&B
If you're looking for a selection of new sounds that you might not have seen elsewhere, this playlist is an excellent starting point. You'll find a wide selection of artists that haven't been covered in many artists, and these will have numerous rapping styles as well.
The playlist has just under 100 songs at the time of writing in March 2023, and it's updated quite frequently. It was created by a user on Spotify, and you can send them any other submission ideas you might have as well.
The playlist runs for a combined total of just under five hours.
NONCHA
As mentioned earlier, NONCHA is the music label that Jelle has signed up for. In addition to him, you'll find a selection of other up-and-coming artists that have also joined NONCHA. Many of the songs are in Flemish – but even if you don't understand the lyrics, you'll probably love the songs.
This playlist has 30 songs, and they run for just over an hour altogether. So, if you're interested in finding non-English rappers, this is an ideal place to start checking through their music catalogs.
Side note: If you're interested in finding out who liked your playlist on Spotify, we've written a full guide speaking about whether that is possible.
Cloud Rap
The Cloud Rap playlist was put together by Spotify and features a carefully-curated list of excellent rappers. Each of the artists you see rap in French, and you'll find a mixture of both household names and up-and-coming artists. It's updated quite frequently, so you'll constantly stay up to date with the newest songs in this space.
Cloud Rap features several artists, including Bené, DTF, and Many Santana. These songs collectively last for around two-and-a-half hours, meaning that you can use it to soundtrack a certain part of your day – and you might also want to use it for your workout or a commute.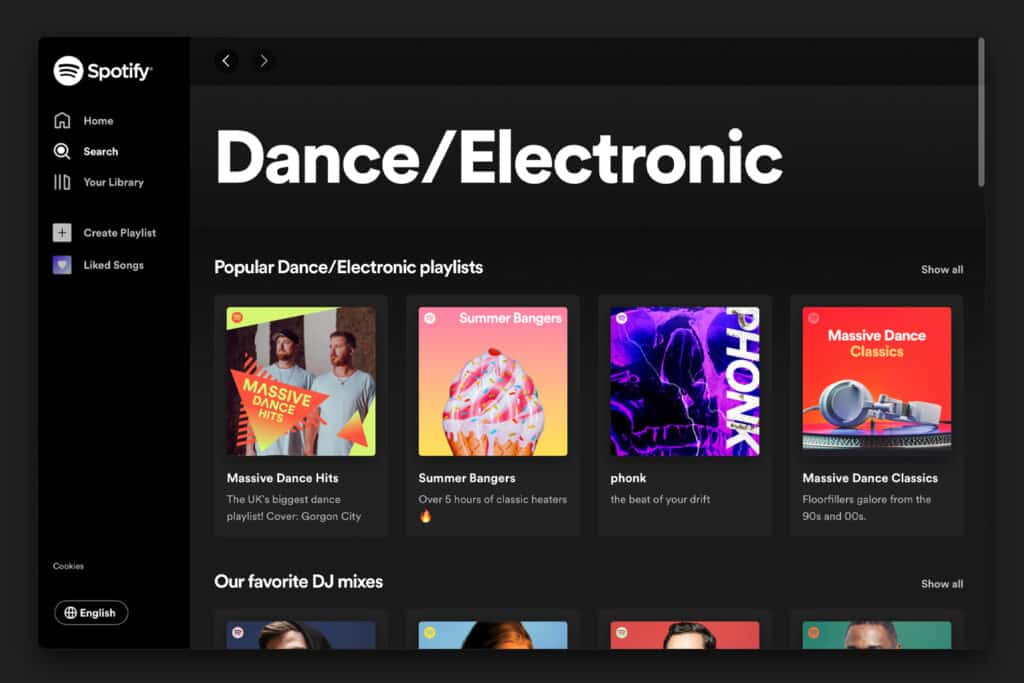 Electronic
When we speak about electronic music, we're mainly talking about electronic dance music (EDM). Look at some of the best unknown artists before identifying where you can find these (and similar) musicians.
Artists
Here are three electronic artists that you might not have heard of but should consider taking a look at.
Matroda
Matroda owns a label called Terminal Underground, but he also makes a lot of his own music. He has been in the music scene for around a decade, with his first upload to Spotify coming in 2013. Since then, he has released numerous singles – including Forget It, which has over 28 million streams.
In addition to the singles he has released, Matroda launched an album in 2019 called The RED Tape (Deluxe). He also published an EP called Jack The House 3 in 2022, featuring songs such as Temperature and Wasting Time.
Simon Doty
Another of the many undiscovered artists on Spotify worth looking at is Simon Doty, who originates from Canada. He has been producing music for over 11 years, with his first release on Spotify dating back to 2012.
In the following years, Simon Doty has created a whole host of dance-worthy tunes – including New Beginnings and Tattoo.
Simon Doty also played basketball at college level before stepping into music. He has drawn his influence from several popular names in the dance music scene, such as Hot Since 82 and Eelke Kleijn. Doty tours throughout Canada and the US, playing in cities such as Detroit, Montréal, and Toronto.
Swedish Red Elephant
Sweden's contribution to the EDM scene is unparalleled; the likes of Avicii, Axwell /\ Ingrosso, and the Swedish House Mafia need no introduction. But besides the biggest names that you've likely heard of, you'll find a selection of lesser-known – but still great – artists.
Swedish Red Elephant is one of those.
The duo has an extensive background in the music space, working within genres as unique as K-Pop and more. Swedish Red Elephant has been around since 2016 and hails from the south of Spotify's homeland and Scandinavia's largest country.
Swedish Red Elephant has collaborated with several other big names in the electronic music space. For example, their song with Tensnake – World Beneath – appeared on the German artist's 2020 album L.A.
Playlists
Now that you know some of the best undiscovered EDM artists on Spotify, here are some of the playlists where you can find these and similar ones.
EDM 2023
One of the best places to discover new EDM music on Spotify is EDM 2023. You will find a range of well-known and more obscure artists. In the former category, you can listen to new hits from the likes of Calvin Harris, Tiësto, and Timmy Trumpet.
For lesser-known EDM artists, you'll find names like ShortRound, Mat Zo, and Monocule.
The playlist is regularly updated and features 100 songs, which last for just over five hours altogether. It's a great soundtrack for any parties you might have at your place, and you can also use it to get through a tough workout or to increase the speed of your workflow.
New Music Friday Dance
New Music Friday Dance is another playlist you can check out if you're looking for new EDM hits to soundtrack your weekend. The playlist, also created by Spotify's editorial team, is updated every week with the best songs for your night out or whatever else you have planned.
Like EDM 2023, the playlist features a selection of new and established artists.
In addition to EDM, you will find a selection of house and techno songs feature on the New Music Friday Dance playlist. So, if you're interested in trying a different genre, you've got that option.
Beats of Tomorrow
Another of the best playlists for discovering unknown artists is Beats of Tomorrow. In fact, we would argue that this is the best option if you're looking for tracks that aren't yet mainstream – but have the potential to go that way in the future.
You'll find over 200 songs on this playlist, lasting for over 12 hours in total.
On the Beats of Tomorrow playlist, you'll find a good selection of EDM tracks from unknown artists. Sprinkled in with these, you can check out numerous tracks from more established names in the industry.
If you've got a house party coming up, you certainly won't be short of tracks to play with this playlist.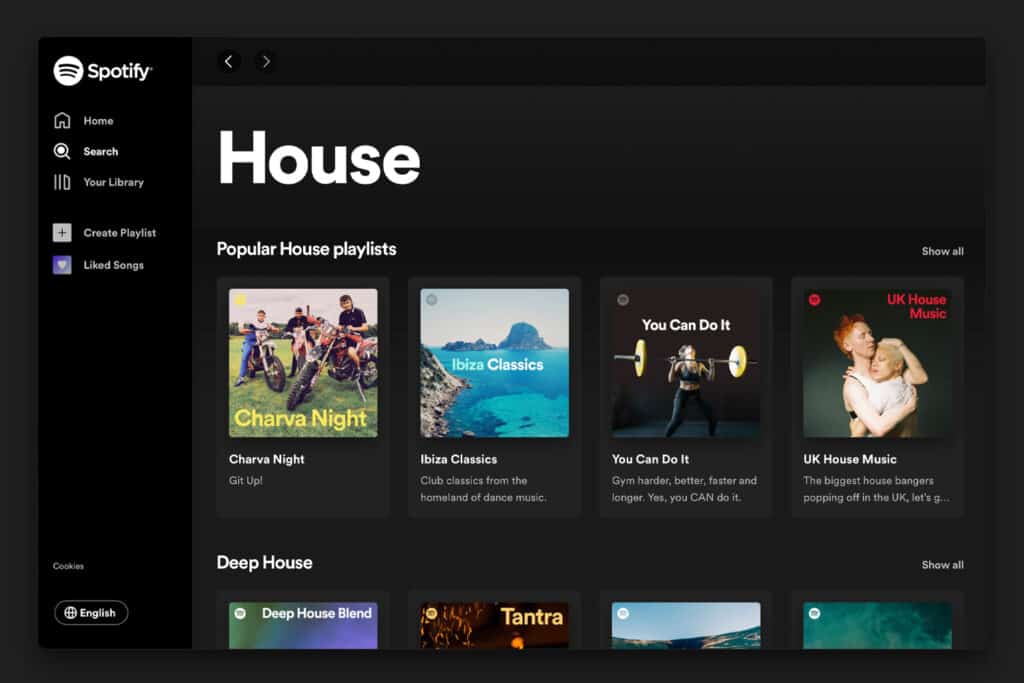 House
We've talked about EDM, but we figured that it would be good to include a separate section for house music as the genres are quite different. Below are three artists and three playlists where you can discover unknown artists in this genre.
Artists
Let's start by looking at some of the artists in the house music space that you should consider looking at.
Giolí & Assia
Giolí & Assia is a house music duo formed in 2016. The pair has gained supporters from several parts of the world, including Mexico, the UK, and Germany. They have also enjoyed success touring across the US, and they're set to share a stage with the iconic electronic music duo Sofi Tukker.
Giolí & Assia are originally from Palermo, the largest city on the scenic island of Sicily. Some of their absolute must-hear tracks include Emptiness, Inside Your Head, and Fire Hell and Holy Water.
Oliver Schories
Another excellent house music artist that deserves more attention is Oliver Schories. He hails from Bremen, which is one of the largest cities in Northern Germany and not too far away from Hamburg.
He has gained support for his work in both Germany and Switzerland, and you can catch him touring in cities like Munich, Hamburg, and Berlin.
Some of Oliver Schories' best songs include Daily Routines, Caprice, and Gordon. He's been in the music scene for over a decade.
Dayne S
Another German artist in the house music space is Dayne S, who has featured in numerous Spotify playlists. He has produced music for over 10 years, with his first single on Spotify dating back to 2010.
Dayne S has several experimental and innovative tracks, and you can listen to his music in several scenarios. It's great for getting a party going, but equally nice to listen to when cleaning up around the house.
Some of Dayne S' best songs include Running Up That Hill and Falling. He also collaborated with Tapesh for How I Do.
Playlists
Now that you know more about some of the best house music artists on Spotify, let's look at the playlists you can listen to them on.
Below are three places to find the best unknown artists on Spotify in this genre.
#DiesisRecords
If you want to hear more of Giolí & Assia, you can find their tracks on the #DiesisRecords playlist. However, they're not the only music group you'll discover here; you can also listen to songs by the likes of MYDIR, Zakente, and Deviu.
Diesis Records is the label that Giolí & Assia founded, so you can discover all of the artists signed up here. Besides hearing all of the tracks that the duo has produced on their own, you'll also find a wide selection of those where they have collaborated with other artists.
Deep House Blend
Deep House Blend is a great place to find some of the best unknown artists on Spotify for house music. The playlist was created by Spotify and has 80 songs, which have a combined runtime of seven hours and 25 minutes.
As with many playlists developed by Spotify, you will find a broad range of established artists as well.
If you're looking to focus intensely on a project or something else, Deep House Blend will be a great choice for doing that. You can also listen to the playlist when you're out for a run, along with doing so in several other situations.
Night Clillout 2023
Another place where you can find unknown house artists on Spotify is Night Chillout 2023. The playlist was generated by a user on the music-streaming platform, and it features a broad range of genres beyond house. There are over 80 songs, which last for around five hours altogether.
Night Chillout 2023 features a mixture of songs with and without lyrics. You can use it for lounging around the house, along with when cleaning up and doing various other things.
Discover the best unknown artists on Spotify
Finding the best playlists of new and unknown artists on Spotify is quite challenging due to the number of lists that you'll find on the platform. Even if you narrow down to only focus on one genre, you will still find it tricky to sift through all the noise.
Luckily, you can be more selective about where you go to find your new favorite songs.
Even though some artists have been around for decades, they might still not receive the audience sizes that their work warrants. This could, of course, also be a choice; being a huge artist comes with a whole host of stresses that not many people think about.
Now that you've read this guide, you should have a better understanding of where you can find a good unknown artist on Spotify – along with the playlists they feature on.
Unwired for Sound: Set your audio free.
Now read these:
—Your guide to sharing liked songs on Spotify 
—How to see who liked your playlist on Spotify
—Alexa won't connect to Spotify? A quick fix!
—How to find new music for playlists on Spotify