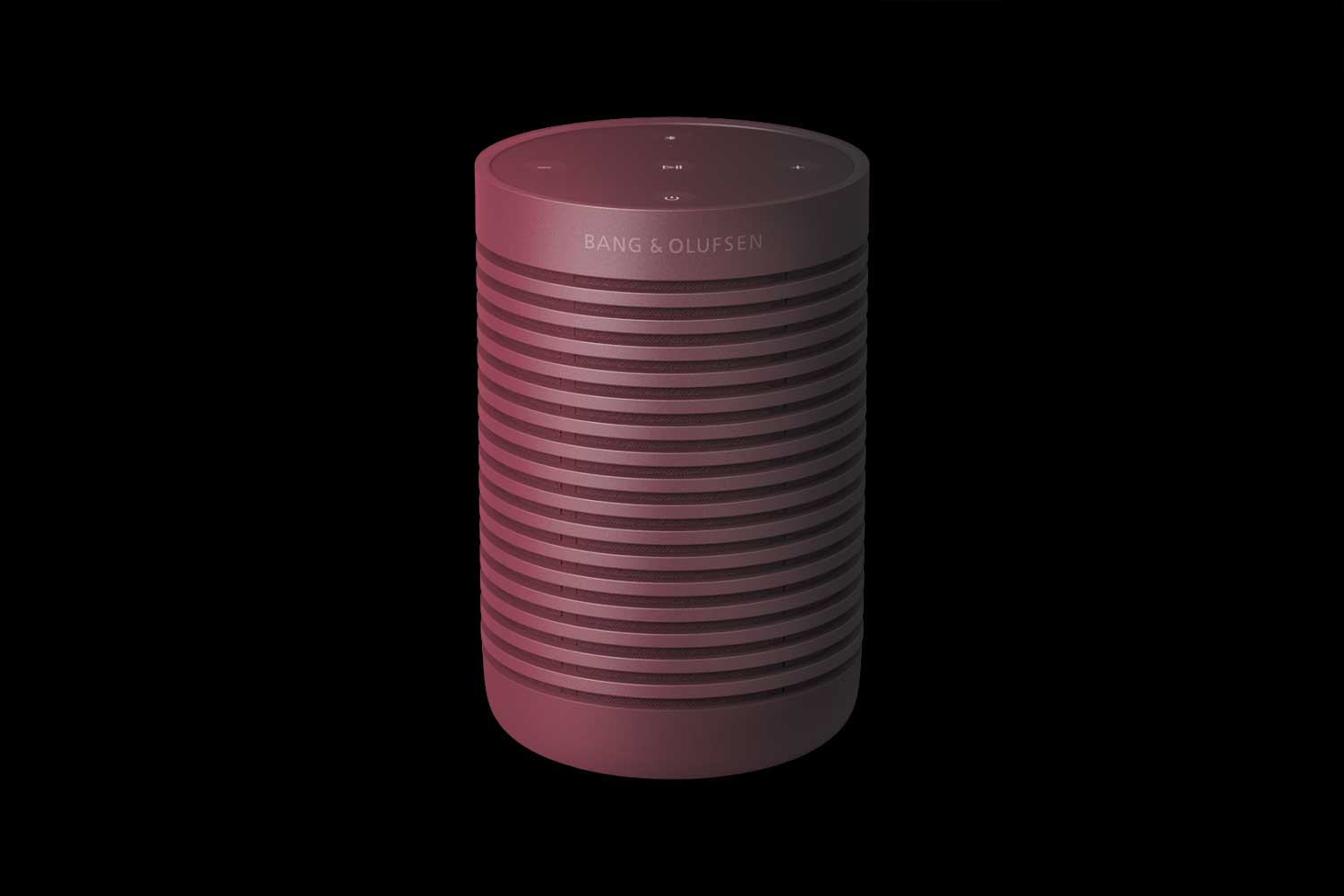 Portable speakers have become a popular accessory for those who enjoy listening to music, podcasts, or audiobooks while on the go. They offer incredible convenience and freedom to bring your audio wherever you please. Amongst the wide variety of portable speakers available, the Beosound Explore is a top choice for those who prioritize design, durability, and audio quality.
One critical aspect to pay attention to when purchasing a portable speaker is the balance between portability and sound quality. Some speakers sacrifice one for the other, but the Beosound Explore is designed to provide excellent sound and robust build quality without compromising the form factor.
It's important to consider how you intend to use your speaker "whether for travel, outdoor adventures, or simply around the house" and find the right balance of features that suit your needs.
Battery life and water resistance are other important factors in selecting the ideal portable speaker. You want a device that can keep up with your adventures without constantly requiring a recharge or being at risk of damage due to unintended exposure to the elements.
The Beosound Explore is designed with these considerations in mind, aiming to provide a no-compromise audio experience for users on the move.
With all these factors in mind, we have thoroughly researched and tested various portable speakers, including the Beosound Explore, to help you make an informed decision and find the perfect speaker that combines style, performance, and durability.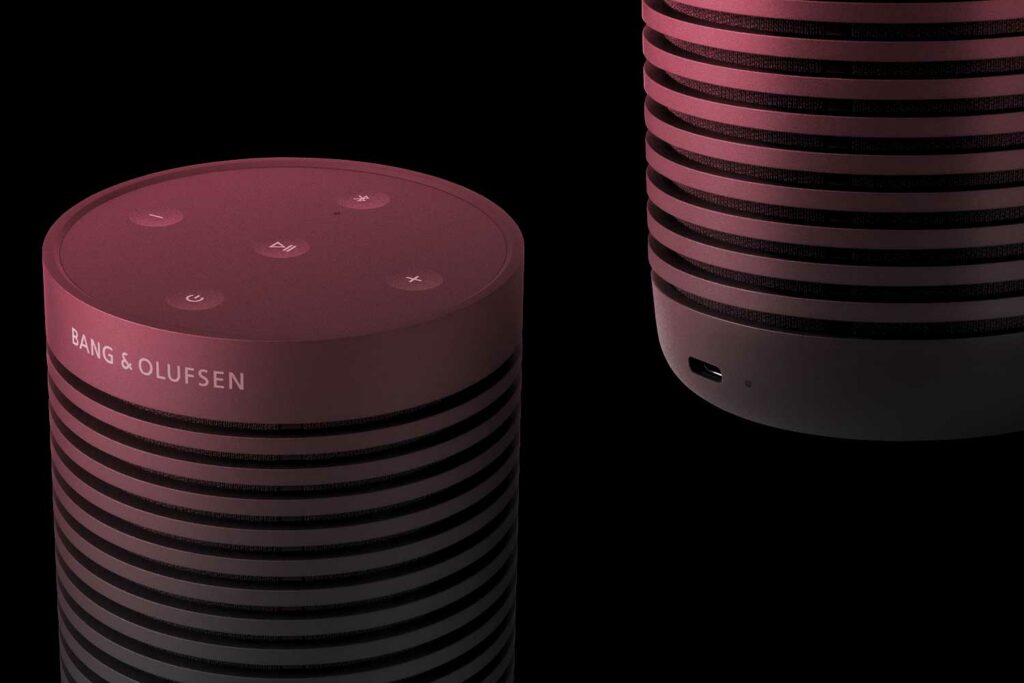 The Beosound Explore is ready for your adventures, offering a durable design, impressive sound, and convenient portability for an enjoyable outdoor listening experience.
Pros
Rugged, waterproof, and dust-resistant design
True 360° omnidirectional sound
Long battery life of up to 27 hours
Cons
A bit heavier than some competitors
Higher price point
Could easily dent if dropped
Our experience with the Beosound Explore
We recently embarked on a camping trip with the Bang & Olufsen Beosound Explore, and this wireless portable outdoor Bluetooth speaker lived up to its name.
Its durable hard-anodized aluminum shell, and waterproof and dust-resistant qualities, exceeded our expectations for a speaker designed to withstand the elements during outdoor adventures.
Our experience with the sound quality was impressive, especially considering its compact size. With dual 1.8″ full-range drivers, the Beosound Explore delivers rich bass and True360 omnidirectional sound.
The performance remained consistent and satisfying whether placed on a rock, hung from a tent pole, or set in the middle of a circle of friends.The Beosound Explore's portability offered additional convenience during our travels.
Its 'relatively' lightweight design and included carabiner allowed us to easily attach it to our backpacks. While the non-slip rubberized base also ensured that the speaker stayed put, whether on a sandy beach or a rough hiking trail.
However, it's worth noting the slightly heavier weight of the Beosound Explore compared to similar speakers and its potential to dent if treated roughly. Additionally, the higher price point could be a deterrent for those on a budget.
Overall, we highly recommend the Bang & Olufsen Beosound Explore for those in search of a reliable and portable outdoor Bluetooth speaker. Its rugged design, exceptional sound quality, and ease of portability make it well worth the investment for any adventurer.
Check on Amazon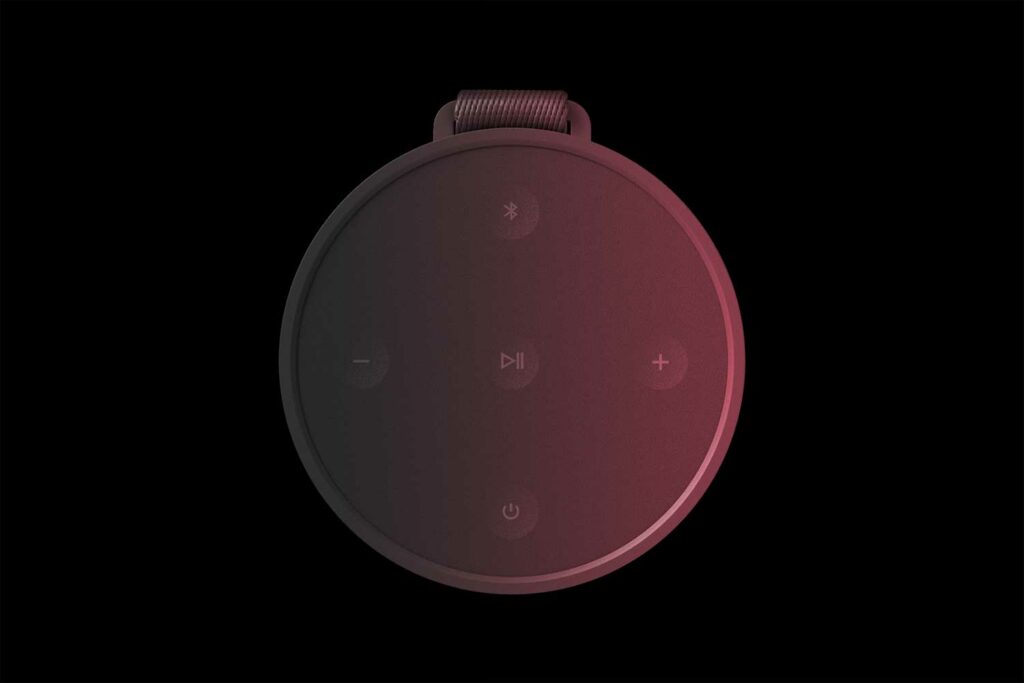 Frequently asked questions
How does Beosound Explore compare to Bose Soundlink Flex?
Both Beosound Explore and Bose Soundlink Flex are excellent portable speakers with distinct features.
Beosound Explore has a more rugged design making it more suitable for outdoor adventures. It also has a longer battery life of up to 27 hours.
On the other hand, Bose Soundlink Flex offers a more balanced sound profile and a 360° sound experience. Ultimately, the choice comes down to personal preference and intended usage.
What is the difference between Beosound Explore and Beosound A1 2nd gen?
While both speakers are from Bang & Olufsen's range, some differences exist.
Beosound Explore strongly focuses on portability and ruggedness, making it more appropriate for adventurous trips.
Beosound A1 2nd gen, although still portable and durable, puts more emphasis on sound quality, and includes additional features such as a built-in microphone for calls and voice assistant compatibility.
What is the wattage of the Beosound Explore?
The Beosound Explore comes with two 30-watt Class D amplifiers, one for the woofer and one for the tweeter. This speaker offers powerful and clear sound output, perfect for indoor and outdoor listening experiences.
Is the Beosound Explore durable and portable?
Yes, the Beosound Explore is designed with durability and portability in mind. It features a robust aluminum enclosure, which protects the speaker from potential damage.
It has a compact design and comes with a carabiner for easy attachment to bags or other equipment, making it ideal for on-the-go use.
Does Beosound Explore have a waterproof rating?
The Beosound Explore has an IP67 waterproof rating, which means it can withstand being submerged in water up to 1 meter (3.3 feet) deep for 30 minutes.
This makes the speaker suitable for use around water sources such as pools or at the beach without worrying about damaging the device.
Buying guide
When looking for a portable speaker like Beosound Explore, several factors must be considered to select the best product. In this buying guide, we'll discuss important features to remember while making your decision.
One of the primary considerations should be sound quality. Portable speakers with higher wattage typically produce louder and clearer sound.
It's essential to find a speaker that delivers optimum audio performance, including a balanced frequency response and minimal distortion at high volumes.
Make sure to also pay attention to the speaker's sensitivity and impedance.
Sound quality
| Feature | Description |
| --- | --- |
| Wattage | Higher wattage for louder and clearer sound |
| Sensitivity | Measures how well the speaker converts power to volume |
| Impedance | Lower impedance requires more power from the amplifier |
Another important aspect to consider is the speaker's portability. Lightweight and compact designs make it easier to carry the speaker wherever you go. Additionally, look for features like a built-in handle or a carrying pouch.
Remember that ease of use also plays a significant role, so opt for speakers with user-friendly interfaces and simple controls.
Battery life is yet another crucial element in your choice of portable speakers. Longer battery life allows for uninterrupted music playback during extended periods away from a power source.
It's wise to choose a speaker with a playtime of at least 10 hours or more, depending on your usage needs.
Remember to look for
Lightweight design
User-friendly interface
Long battery life
Finally, don't forget to check for water and dust resistance. Outdoor adventures expose your speaker to various elements, and having a durable, weather-resistant speaker is essential.
Look for an IPX rating indicating the speaker's resistance to water and dust, with IPX7 being a common standard for rugged outdoor speakers.
Always remember to read online reviews and seek recommendations from friends to find a reliable portable speaker that meets your specific requirements and budget.
Happy shopping!
Unwired for Sound: Set your audio free.