Many people use their mobile devices for most things these days, if not everything. With that in mind, knowing how to connect two Bluetooth speakers to one iPhone — whether those are HomePod speakers, an Amazon Echo device, or something else — is a good idea.
Once you've adjusted your Bluetooth settings, connecting to your audio devices is simple. In the meantime, however, things can sometimes get quite tricky.
You might want to connect different devices to your iPhone for several reasons. In some cases, you might be hosting a party and want to improve the audio output by using more than one speaker. And in other instances, you might be performing chores — such as cleaning the house or taking out the trash.
In these instances, using multiple Bluetooth speakers can provide a more immersive audio experience and help you to complete tasks that you don't want to spend a huge amount of time on.
Regardless of why you want to pair your iOS device with many wireless Bluetooth speakers, you'll find out how to do that today. We'll show you not just how to connect two Bluetooth speakers to one iPhone, but also how to identify how many different Bluetooth devices you can pair with a single iPhone.
And to ensure that you get the most out of your experience, you'll also discover some useful tips for connecting your iPhone with numerous smart speakers.
Without further ado, let's start exploring this topic further.
Can an iPhone connect to multiple Bluetooth devices?
If you've only used your iPhone with one pair of Bluetooth headphones, you might not be aware that you're allowed to connect an additional speaker to a single device. However, doing so is a lot easier than you think — and there are many different ways to pair your devices.
How many Bluetooth devices can an iPhone connect to at one time?
iPhone users have the luxury of having up to seven paired devices at any one time. These could be a Bluetooth headset and a set of headphones, but you can also opt to connect several compatible speakers.
You should probably limit your Bluetooth audio device connections to three on your mobile phone, but you don't necessarily need to adhere to that rule completely.
Even if you don't have the Music app on your device, you can still connect a second speaker to your iPhone. The type of device you have may play a role in how many speakers you can use; newer iPhone models typically have better functions in this respect.
However, pretty much every iPhone — and not just the latest models — has Bluetooth compatibility.
When using a Bluetooth connection with your iPhone, you might need to download 3rd party apps in order for everything to work as you want it to. These will typically be available on the App Store, but it'll depend on the model of speakers you have — along with other factors.
How to add multiple Bluetooth connections to your iPhone
Now that you know more about the number of Bluetooth connections your iPhone can handle at once, let's look at how to connect two Bluetooth speakers to one iPhone. Below, you'll find the steps you should follow to add a new audio receiver and build the ultimate surround sound experience.
Check to ensure that your device is compatible with your iPhone
Before you do anything else, the first step you should take is to read the user manual for the new device that you're trying to connect. The first paired device will likely take a bit more time than you might expect, and each manufacturer is different.
You should also make sure that your device is compatible with your iPhone; a newer model will be compatible with the latest Apple devices in most cases, but it's still worth double-checking to ensure that this is the case for you.
You'll also need to set up your speakers around your house. Make sure that they're connected and that your Bluetooth settings are enabled. It's also a good idea to check if you need to complete a firmware update before your devices are ready to use.
Switch on Bluetooth
After setting up your speaker away from your iPhone, you'll need to turn on Bluetooth on your iPhone before you have the option to audio share. Doing so is quite simple, and you have a selection of options.
If you see the Bluetooth icon in your Control Center, you can tap on this. Once you do and the icon turns blue, your device will be ready for pairing.
Another way you can set up Bluetooth and connect two speakers to one iPhone is by going to your device's Settings app. Here, you can look for the Bluetooth tab on the main screen. When you're there, toggle the button that you see on. Your device will then be ready for pairing.
While you can use your iPhone and Bluetooth with a wireless connection, you don't necessarily need one. The feature will still work if you're on a cellular connection, and it'll also be fine in airplane mode.
For either of these, you should ensure that your music streaming app settings allow you to either play music on your mobile network.
Alternatively, you can download your playlist so that it's ready to use offline.
Set up and connect your devices with your iPhone
After turning on Bluetooth, you're ready to begin connecting your speakers with your iPhone. The first thing you'll need to do here is set up your devices. In many cases, the easiest way to do this is by keeping your speaker and smartphone close to each other.
Once you've verified that Bluetooth is switched on for both your iPhone and your speakers, go to Settings > Bluetooth on your smartphone and look for the first device you want to connect.
Tap on the name of your speaker. After doing that, your device should — before too long — pair with your smartphone. Once that has happened, you'll be able to start playing music. You can verify whether your speaker is connected by looking for an audio signal or icon on your device.
After setting up your first speaker, you can do the same for your second — plus any others you want to start using. In some instances, you might find that it's a good idea to temporarily disconnect the first speaker and reconnect it once the other is set up.
You should only need to do this once; everything should work fine after you've done the initial legwork.
​For some manufacturers, such as Bose, you'll find a party mode that allows you to play music through multiple devices at the same time.
Start playing music
Once you connect two speakers to one iPhone, you should have no problems playing music. It's worth doing a test before you jump into things fully, though, and you can easily verify whether your devices are working as they should by playing music.
Note that some apps, such as Spotify, might require you to choose the speakers you want to play music with. You can do this by going to the bottom of the screen on your iPhone app.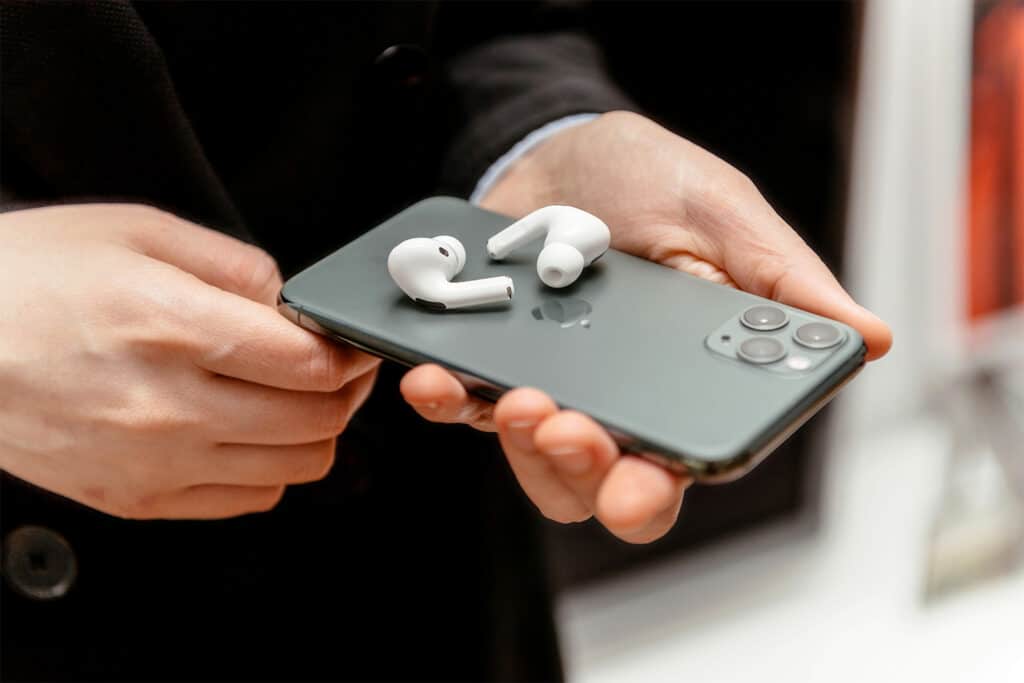 What to do if your iPhone and speakers aren't connecting
Have you attempted a HomePod stereo pair with your iPhone, but nothing's working? Has the same happened for other speakers you use, such as your Bose speakers? If so, you can try a selection of options to get back on track.
Here are some ways to connect two speakers to one iPhone if you're having problems.
Check to ensure that your devices are switched on
​The first place to start is by ensuring that you've turned on your devices and plugged them into your wall. If you use an EU, Swiss, or US plug adapter, you won't need to switch the wall socket on as well — but in the UK, you'll need to double-check that you've also turned that on.
If you've verified that the devices were turned on, you can always try unplugging your speakers for a few seconds — before trying again.
Move your devices closer together
Another common reason why your iPhone may not connect with your Bluetooth speakers is that they aren't close enough to one another. When using an iPhone's Bluetooth, you need to ensure that your device is no further than 10 feet away from the speakers you want to connect to.
If you suspect that your smartphone is further away than that distance from your device, try moving everything closer together.
It's also worth ensuring that there aren't large physical objects obstructing the audio signal, such as walls and bookcases. If there are, consider repositioning your devices so that you solve this issue aptly.
Use third-party apps
Another possible solution if your devices won't connect together is by using third-party apps. You'll find several options on the App Store, and AmpMe is arguably the most useful and popular option in equal measure.
You can also try using an Android device if you know someone that has one or if you have a spare phone around the house.
Useful tips for connecting multiple Bluetooth devices to your iPhone at the same time
While we've covered how to connect two Bluetooth speakers to one iPhone in detail, there are a couple of other things you can try in order to maximize your listening experience. Below, you can check out our top recommendations.
Make sure that you keep your devices in range
​When listening to audio on more than one speaker, it's important that you keep both of your speakers in range. As we mentioned earlier in this article, 10 feet is the maximum distance that Apple devices can play music from without disconnecting.
If you're hosting a party, it's worth keeping your phone and speakers out of the way of everyone else — as this will also help to ensure that nothing gets damaged.
Don't keep your devices next to each other if you want optimal sound quality
While you should keep your device close to one another, you shouldn't keep your speakers right next to each other. Doing so might result in an unwelcome echo and other annoyances, so it's worth slightly separating them.
You can always try to move one speaker to one side of the room and the other one on the opposite side. That way, you'll still be within the necessary range for your device to not get disconnected — but it won't be a huge problem in terms of the sound quality that you get.
Keep your software updated on all devices
After you connect two speakers to one iPhone, perhaps the most important thing you can do is keep all of your software and firmware updated. Apple releases major iOS updates every fall, but you'll receive smaller ones intermittently throughout the year.
It's easy to discount these other ones as unnecessary, but that's not entirely true; they're essential for avoiding security issues and ensuring that your device continues running as it should.
Your speakers will likely receive firmware updates every now and then, too. When this occurs, you should keep your devices updated; this is often easily done via the app relevant to your manufacturer.
For both your iPhone and the speakers you use, you should have the option to set up automatic updates and eliminate the associated manual work.
Useful tips to connect two Bluetooth speakers to one iPhone
Having read to the end of this article, you should now know how to connect two Bluetooth speakers to one iPhone. The process can sometimes feel quite daunting, especially if you've never connected anything via Bluetooth to your device before.
You can use up to seven external speakers or headsets at once, which makes audio sharing a breeze. And with some manufacturers, you can even opt for party mode to ensure that you're able to play music with no issues.
Most Bluetooth devices are compatible with iPhones, and pretty much all of the most modern options will work with new models. Now that you've read this guide, why not start setting up everything for your next big event?
If you want to share songs you've liked on Spotify, you can easily do that as well. Our guide reveals everything you need to know.
Unwired for Sound: Set your audio free.