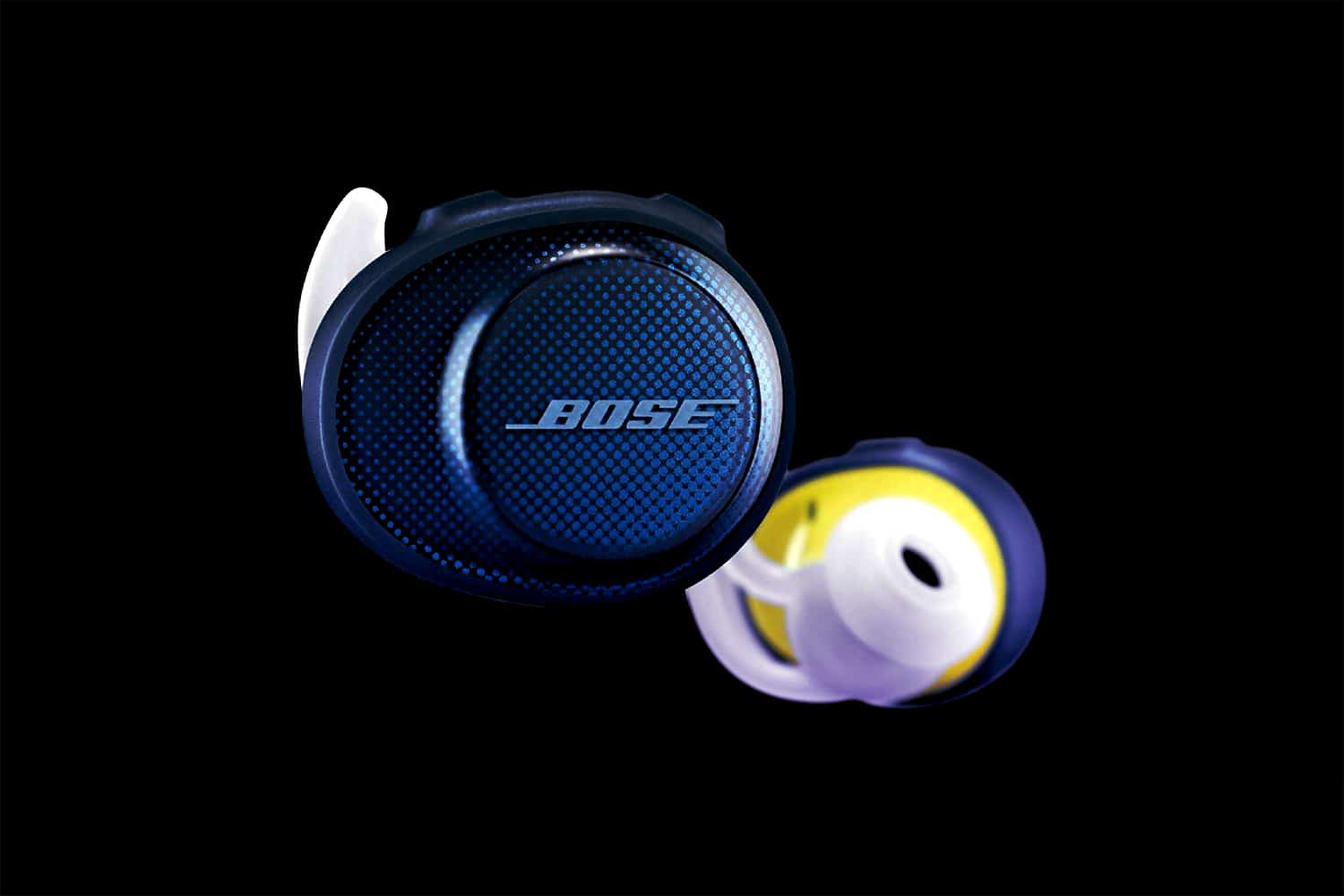 "True" wireless earbuds are all the rage these days.
After Apple introduced the AirPods, consumers everywhere started looking for more convenient, cord-free solutions for easy listening.
The Bose Soundsport Free earbuds are Bose's attempt to corner this market.
Audiophiles everywhere trust Bose to deliver amazing sound quality in speakers and headphones alike. The company is responsible for some of the world's best noise cancellation headsets.
What's more, Bose also leads the way in portable speaker systems.
Now, the Bose Soundsport Free wireless earbuds appeal to a new niche of customers – athletes on the move.
In a space rife with competition, Bose's Soundsport Free earbuds check a lot of boxes.
Let's explore what these mini headphones can do.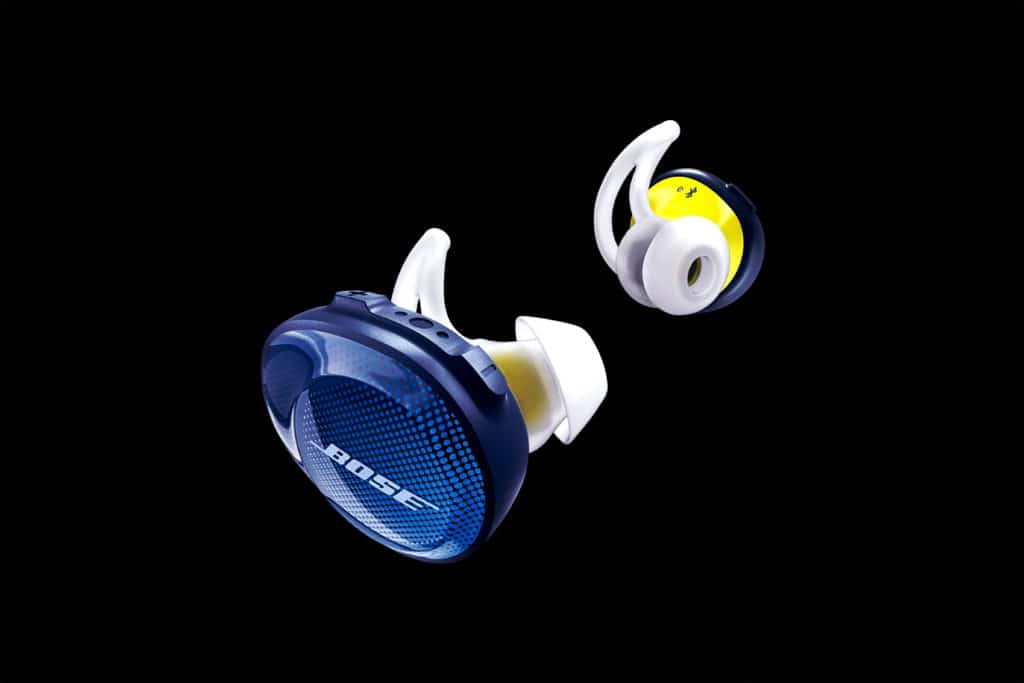 Bose Soundsport Free: Design and size
Named "Free" for their true wireless design (not the price tag), the SoundSport earbuds are some of the best tools in their category for listening to audio on the go.
These earphones specifically target athletes, with a seat and water-resistant construction. Aside from feeling wonderfully rugged and durable, the earphones are also surprisingly comfortable.
At first glance, they might seem a little chunky compared to their rivals. However, that doesn't detract from how these earphones feel.
Although the Bose Soundsport Free earbuds do stick out a little, they're attractive enough that you don't mind them attracting a little more attention. You can even choose a pair in bright orange if you're so inclined.
The SoundSport Free earphones also stay in place thanks to the unique Bose tips. The in-ear devices stick to the inside of your ear with little wings that boost stability and reduce your chances of losing an earphone mid-run.
Each purchase comes with a selection of tips to choose from.
Another handy bonus that you get with these Bose Bluetooth earphones is a dedicated charging case. Like the earphones themselves, the case is a little bulkier than some other options on the market – but it's still a nice extra touch.
Bose Soundsport Free: Features
Featuring state-of-the-art materials throughout, the Bose Soundsport Free wireless earbuds are a delight in engineering. Packed full of technology, these earphones only take 2 hours to charge to full power – which gives you around 5 hours of listening time.
Although five hours might not seem like much for a Bose product, the charging case included will also provide an extra dose of five hours – for 10 in total.
All you need to do is drop the buds into their moulded slots, and they'll begin juicing up instantly. The case also comes with an LED battery indicator.
One possible downside is that there aren't any features included for active noise cancellation – that's a common issue with in-ear options like this.
On the other hand, while noise cancellation might not be an option, wireless calling is. Bose delivers an excellent experience for those who need to take calls on the move.
When we conducted our review, we found the audio on both sides came through loud and clear.
For a price of around $200, features include:
True wireless earphone design
5 hours of battery (10 with charger)
Charging case included
Easy wireless charging function
Firmware updates via app
Microphone included
Pioneering tips for stability
Sweat-resistant design
Reliable Bluetooth connection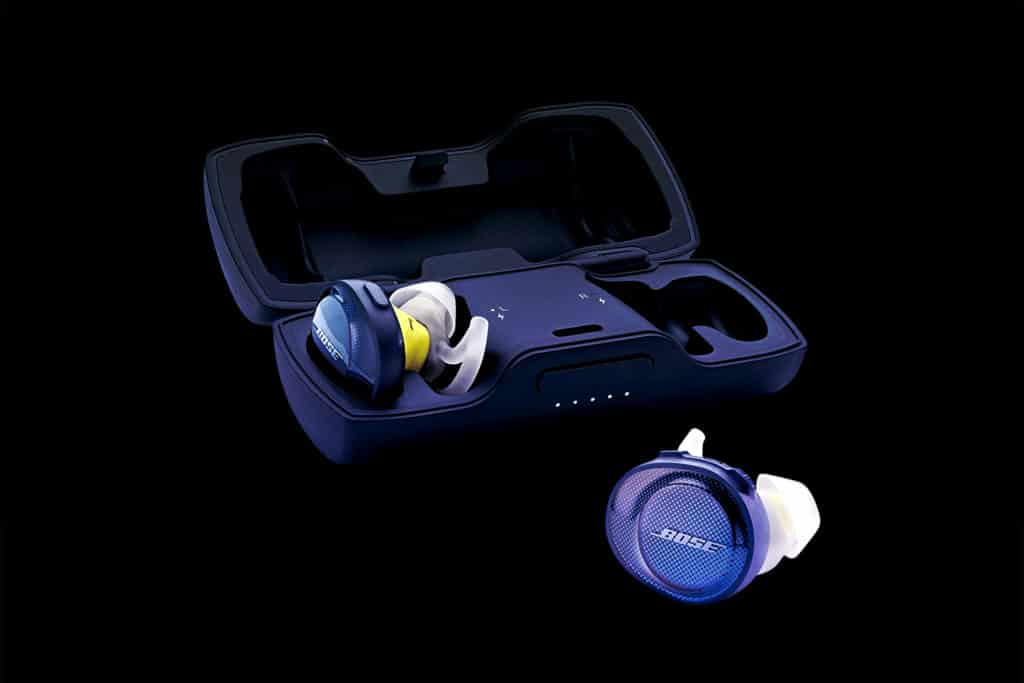 Bose Soundsport Free: Connectivity
All Bose Bluetooth earphones deliver an excellent connection quality for Bluetooth streaming. However, this feature is particularly crucial for the Bose Soundsport Free. With wireless earbuds, it's common to have trouble syncing your device at first.
We found that the Soundsport Free wireless earphones were a little tricky to connect initially. However, the process wasn't too terrible. The biggest issue you're likely to have is that the left and right bud can sometimes lose each other.
While there are worse connection problems on the market, this is an area where Bose will need to improve if they continue to create true wireless earphones. The good news is that once you get a connection, it should be relatively lag-free.
For the price, we were a little surprised that these earphones didn't include support for AAC and AptX. However, you still get a reasonably decent connection.
There's also an app to help you set up your pairing process and find your earbuds if you misplace them anywhere. The app sends a beep to the earphones – wherever they are.
Bose Soundsport Free: Performance
If Bose can do anything well – it's sound quality. That's something that stands out with the Bose Soundsport Free earbuds.
While some wireless in-ear products tend to burrow into your ear to offer extra noise isolation, the Soundsport Free don't. This means that you get a good sound stage without feeling uncomfortable.
Unlike some other products on the market, these Bose wireless earphones aren't noise-cancelling, so you're more likely to hear some of your surroundings.
However, this doesn't detract from the sound quality too much. You'll still get an excellent experience at virtually every level, with powerful bass and clear, crisp higher levels.
The bold but balanced sound works well with a wide selection of audio tracks – and it's great for podcast listening too. We were also impressed to find that the high points didn't feel muted.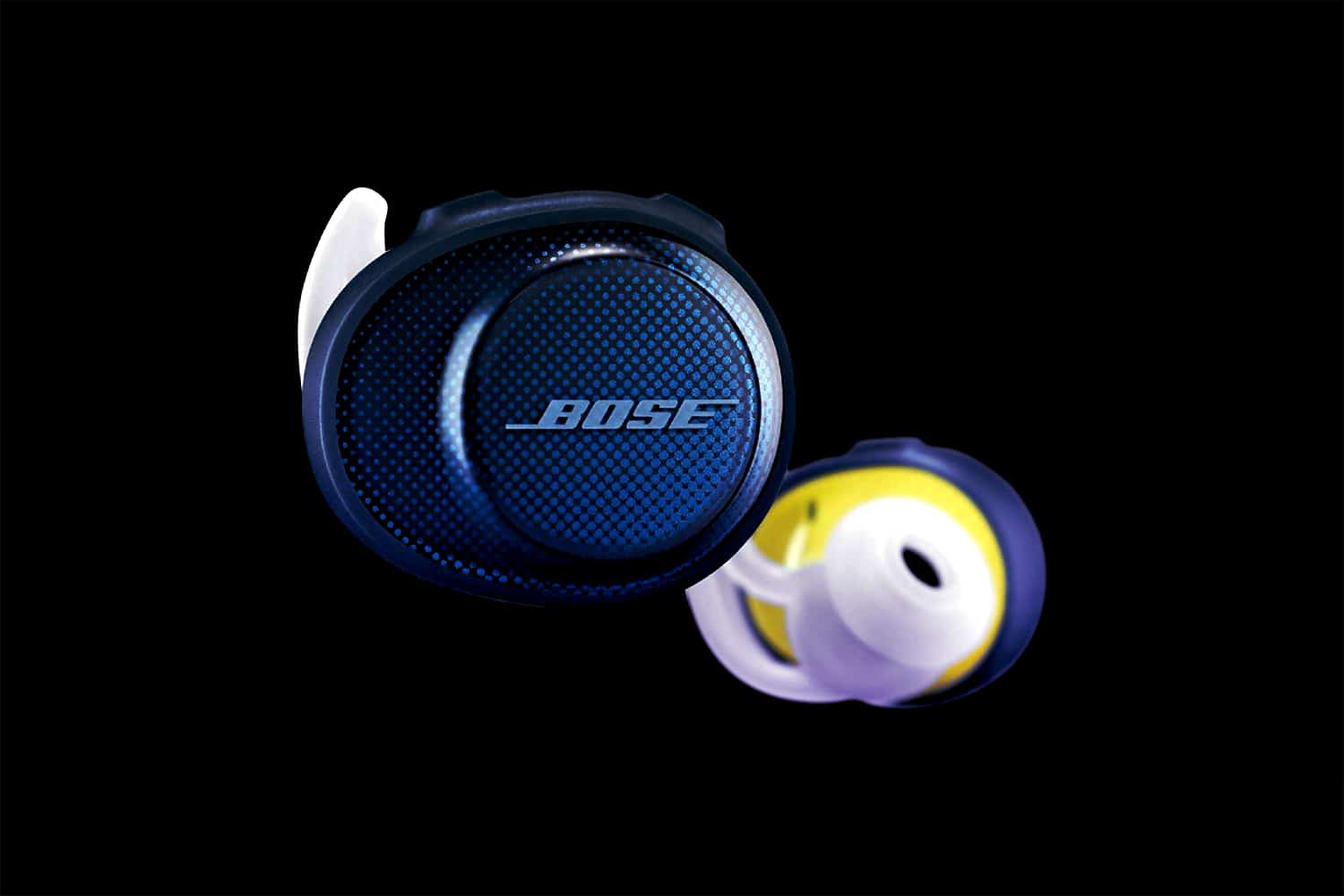 Bose Soundsport Free: Verdict
If you're looking for a pair of true wireless earphones that adhere to your athletic lifestyle, then we'd recommend the Bose Soundsport Free. These earbuds have a few problems to consider, like a lack of noise cancellation and a few problems with Bluetooth pairing.

However, overall, the functionality is good, the sound quality is great, and you get a secure and comfortable fit. Providing full wireless freedom, these headphones offer richer sounds than you'd get from your Airpods, and they're not going to go flying when you're on the treadmill.
Good
Nice aesthetic design
Lightweight and comfortable
Work well with a range of devices
"Find my buds" feature
Easy-to-use app control
Great microphone quality
Water-resistant for sweat
Battery life is decent
Charging cases included
Bad
A little bulky in places
Not the best for Bluetooth connectivity
No noise cancellation