The Best Bluetooth boombox is a valuable product if you're a huge fan of audio. With the right device, you can access amazing, high-volume music wherever you go.
The boombox has been a staple of the music scene for a long time – ever since the age of tape decks and mix tapes. Today, it's a fantastic, portable solution for outside parties, events, and even just chilling out with friends.
No matter what you want to do with your audio, the best Bluetooth boombox is the perfect investment. The only challenge is figuring out what kind of wireless boombox speaker you need.
Today, we're going to explore some of the best Bluetooth boombox options around, looking at everything from battery power and volume to unique features.
1. Philips Bluetooth Boombox (best dynamic bass)
A little bass can really get the party pumping when you're listening to music indoors our outdoors. This ruggedized rechargeable Bluetooth boombox from PHILIPS ensures you're always ready to make the right impression.
Featuring sensational sound quality with a set of 50-watt speakers, and an amazing light-up system, this PHILIPS boombox is super fun.
Alongside a futuristic design with awesome LED lights, the PHILIPS Bluetooth boombox includes an incredible set of audio options to help you play your music how you choose. There's even a flexible set of Aux, USB, and Bluetooth connections, as well as a CD player.
This powerful Boombox is lightweight and portable, built for convenience with an easy-to-use handle too.
Features include:
Light up set of speakers
Dynamic light up boosted bass
Incredibly portable and lightweight
CD and CD-R player included
Aux and USB input
50W of crisp sound from speakers
Useful carry handle
Though a little chunky compared to some portable speakers, this versatile product from PHILIPS is sure to appeal to a wide range of audio lovers.
Good
Versatile and ruggedized design
Built-in CD player
Fantastic AUX and USB input
CD and CD-R performance
Dynamic light-up performance
Bad
Needs to be plugged in for full volume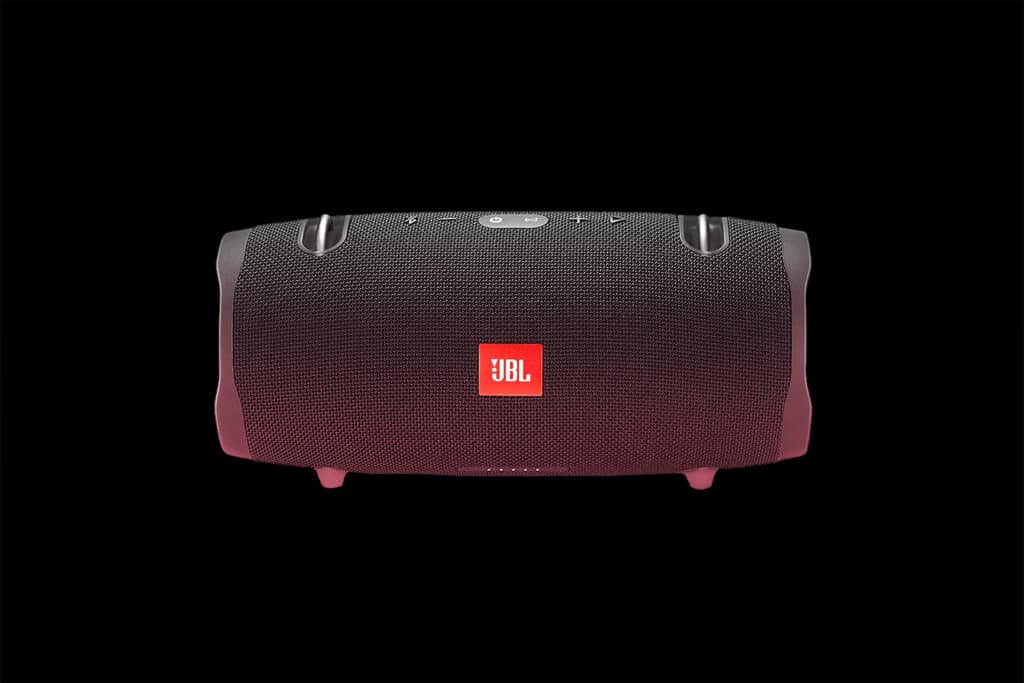 2. JBL Xtreme 2 (best waterproof)
We're a huge fan of JBL products here at unwired for sound, thanks to their sensational performance and durable design. The JBL Xtreme waterproof boombox is one of the most impressive Bluetooth boombox options on the market right now, available in a range of colors.
Aside from an extra durable set of materials for longevity, the JBL Xtreme 2 also features an IPX7 rating, which means you can splash and even submerge the speaker, and it continues to work.
This wireless Bluetooth speaker can deliver up to 15 hours of playtime with no problem. A connector system also means you can daisy chain multiple speakers from JBL to create an immersive surround-sound experience.
If you're looking for a rechargeable boombox packing plenty of power, this is it.
Features include:
15 hours of battery power
IPX7 waterproofing performance
Daisy chain with connect+
JBL speaker app
Lightweight with carry handle
Range of color options
Bluetooth streaming
Excellent durable materials
Though somewhat simple compared to some of JBL's other devices, the Xtreme 2 definitely gets the job done with fantastic audio quality.
Good
Up to 15 hours of battery power
IPX7 waterproof rating
Lightweight and easy to transport
Fantastic daisy-chain performance
Range of color options
Bad
Not the loudest boombox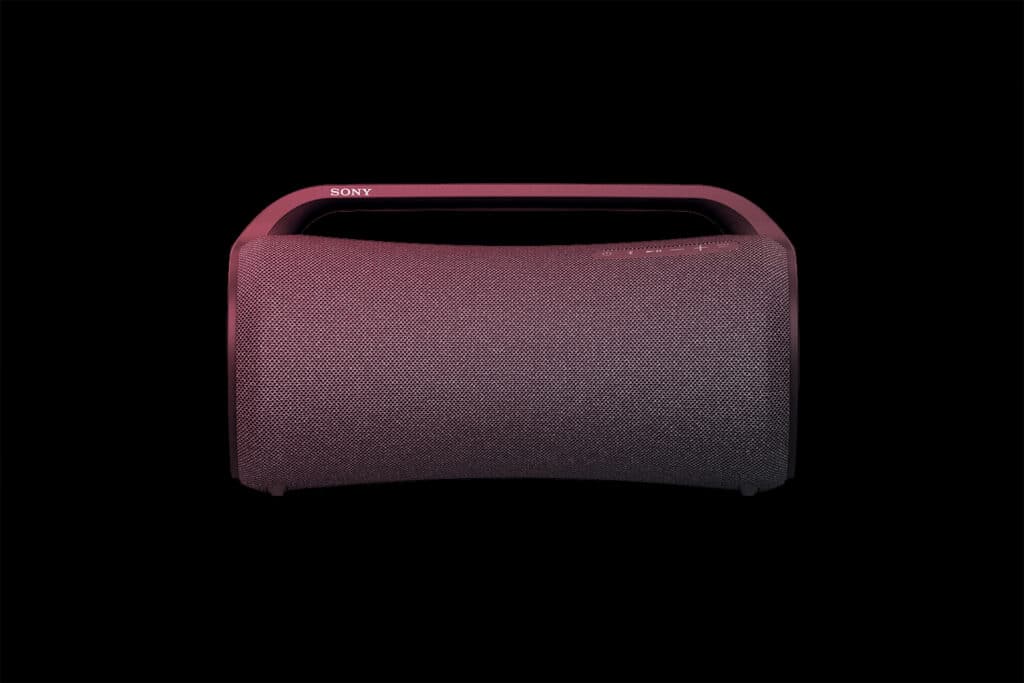 3. Sony SRS-XG500 (best quick charge)
Probably one of the best-known names in the audio industry, Sony produces plenty of amazing tech for today's music lovers. The SRS-XG500 is one of the best examples of a rechargeable Bluetooth speaker we've seen, with amazing X-balanced performance for crisp sound and powerful bass.
The IP66 waterproof rating even gives you peace of mind outside.
The Sony XRS-XG500 is a fantastic device for life on the move, with 30-hour battery life and quick charge function. The lightweight design also comes with a handy carry handle, so you'll have no problem with transport.
Microphone and guitar input options mean you can even start your own karaoke party.
Features include:
Subtle LED lighting for ambience
Connect and stream with powerful Bluetooth
Microphone and guitar input
Lightweight design with carry handle
Quick charging with up to 30 hours of power
X-balanced speakers for crisp sound
IP66 waterproofing
Ready for anything, the Sony SRS-XG500 speaker is sure to be at the heart of any party, BBQ, or outdoor event. Just remember to charge it before you go.
Good
Excellent charging function for quick battery power
X-balanced speakers offer amazing sound
IP66 rating for dust and waterproofing
Microphone and guitar lead input
Subtle LED lighting
Bad
Suffers a little with higher frequencies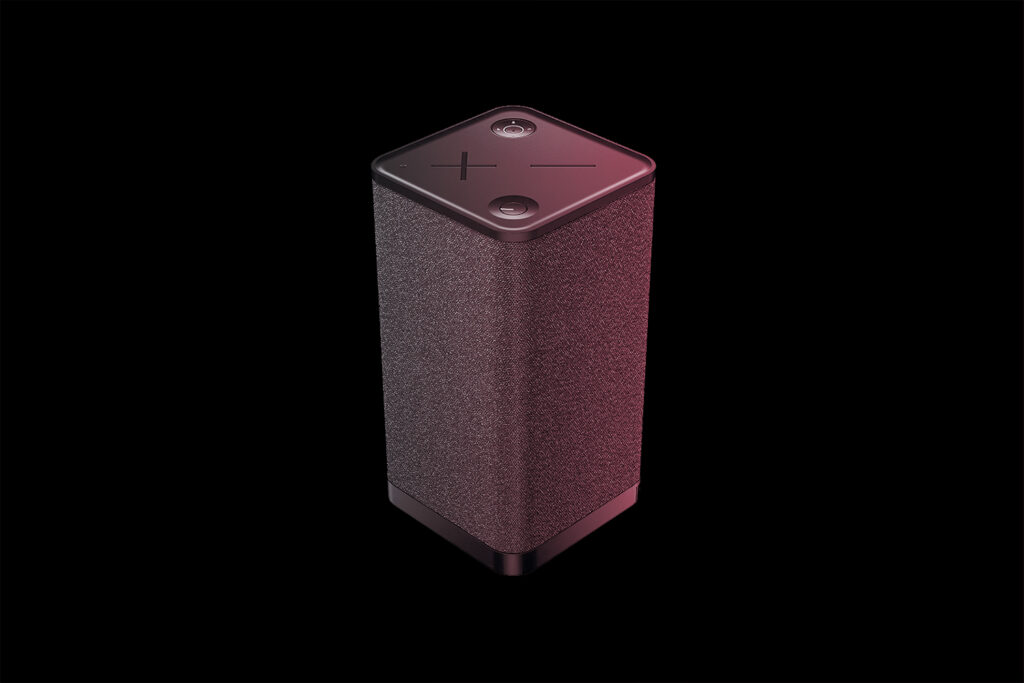 4. Ultimate Ears Hyperboom (best amazing EQ)
When it comes to shopping for the best Bluetooth boombox speaker, sound quality should always be an important consideration. Ultimate Ears' Hyperboom speaker combines a 24-hour battery life with a vibrant sound.
The balanced EQ gives you the perfect balance of bass and treble for any musical event. You can also connect to up to four different devices at once.
With excellent Bluetooth support, an auxiliary input, and the option to connect with other Ultimate Ears products, you're sure to have an amazing time with this device. For extra peace of mind, you'll also have a splash and spill-resistant coating, and a carry handle for portability.
Features include:
USB charging
Spill and splash resistance
24 hour battery life
Quick charging function
Connections for multiple devices
Reliable Bluetooth streaming
Amazing adaptive equalizer
With the intelligence to automatically adapt EQ to any environment, the Ultimate Ears Hyperboom is sure to be one of the best options for audiophiles. It also comes with charging for your smartphone.
Good
Automatic adaptive equalizer
Portable speaker with splash protection
USB charging included
Multiple device connections for Bluetooth
24-hour battery life
Bad
Lacking some features, like smart assistant access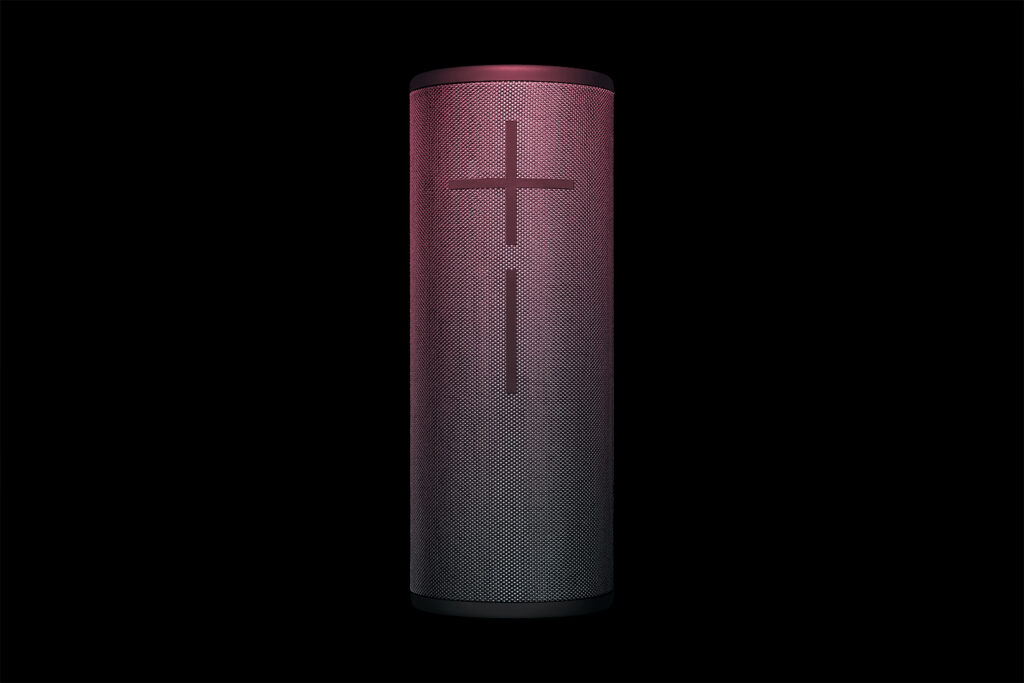 5. Ultimate Ears MegaBoom 3 (best controls)
Another sensational pick from Ultimate Ears, the MegaBoom 3 is one of the best Bluetooth boombox products around from ratings alone. This amazing speaker is small but powerful, with immersive 360-degree sound and thundering bass.
The MegaBoom 3 is covered in ruggedized materials to protect your device from the outside world. This device even has an IP67 rating.
With a power-up charging dock available to make it easier to keep your product energized, and a range of bonus features, the Ultimate Ears MegaBoom 3 is truly amazing. 20 hours of battery life will keep you going all day, while the Magic button allows you to skip, pause and play tracks with ease.
Features include:
Immersive 360-degree sound
Balanced bass and performance
Magic button for easy control
Waterproof to IP67 rating
External charging dock available
Durable design – thoroughly tested
Connect up to 150 speakers on the app
20-hour battery life
If you're lucky enough to have other Ultimate Ears speakers available, you can even increase the volume at your next event by connecting up to 150 speakers at once with a simple app.
Good
Easy to use with app and controls
Durable and waterproof design
20 hours of battery life
Small enough for excellent portability
Amazing bass and sound
Bad
Limited options to adjust EQ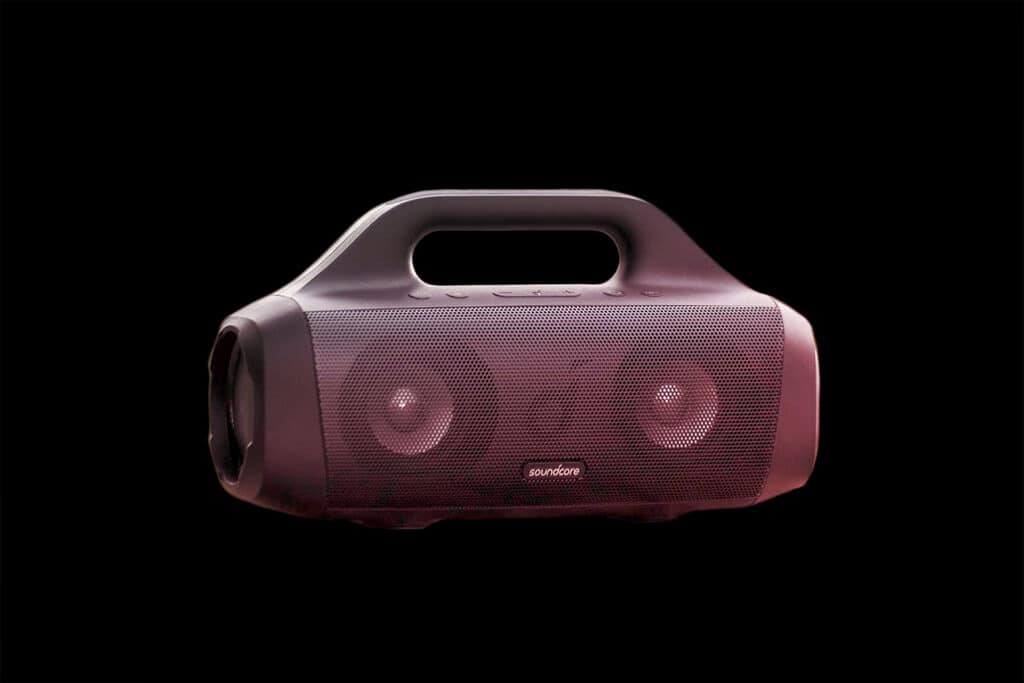 6. Anker Soundcore Motion (best drivers)
If you're looking for the best portable Bluetooth Boombox, Anker delivers great volume and performance with lightweight transportability. The impeccable Anker Soundcore Motion delivers very decent sound, professionally balanced to give you the best possible experience at any volume.
No matter how hard you play, you won't have to worry about distortion.
With 100% pure titanium drivers, the Anker Motion can easily reproduce all kinds of frequencies with fantastic clarity. For peace of mind on your camping trips and adventures, this device can float in water, and it's fully IPX7 waterproofed too.
Features include:
Signature Anker sound
IPX7 waterproof rating
Floats in water
100% pure titanium driver
Extreme distortion-free sound
Fantastic range of volumes
24-hour playtime with quick charging
Durable and portable handle
Play for up to 24 hours at any volume and enjoy fantastic performance everywhere. The Anker Soundcore Motion is a Bluetooth boombox perfect for peace of mind.
Good
Powerful titanium drivers
Amazing press-and-play ease of use
IPX7 waterproof rating
24-hour playtime
High-quality volume with no distortion
Bad
No option to change EQ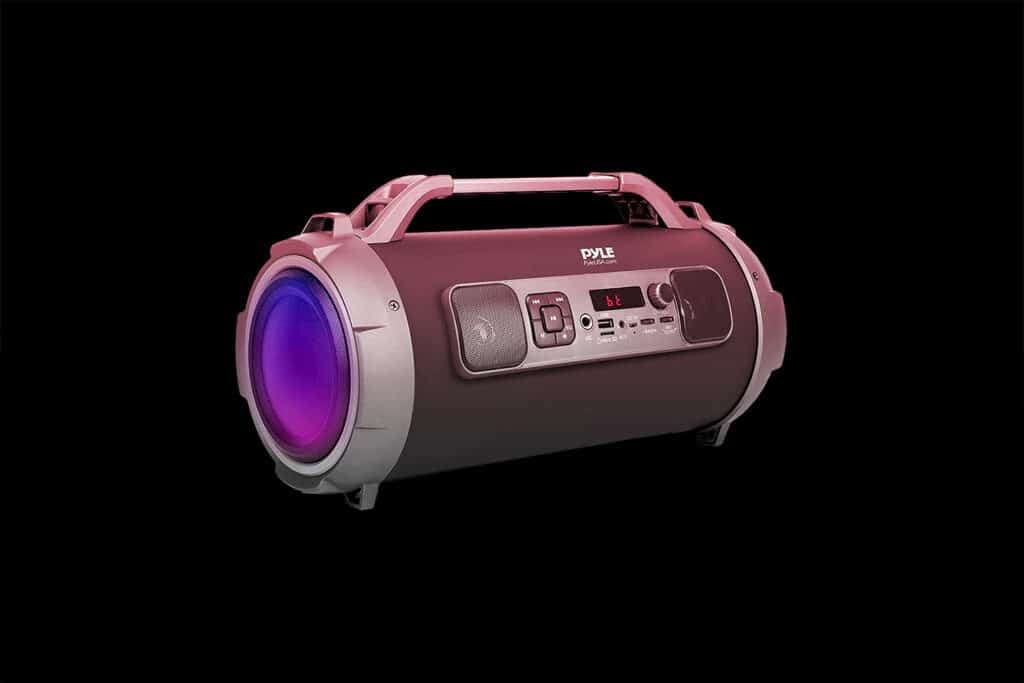 7. Pyle Barrel Loud Stereo System (best with lights)
You'll always be the life of the party with a product like the Pyle wireless Boombox speaker. This rugged-looking device comes with amazing 500-watt power and its own built-in subwoofer, tweeter, and a set of amazing speakers.
Compatible with Bluetooth streaming or capable of Aux input, the Pyle Boombox speaker is wonderfully versatile.
There's a USB port to support MP3 files, an input for microphones or guitars during performances, and an FM radio connection too. Perhaps most impressively, there's a set of flashing DJ lights to light up the room and make your listening sessions more fun.
Features include:
Rechargeable Bluetooth boombox
Flashing DJ lights
USB/SD port input
Aux input
FM radio performance
Microphone or guitar input
Bluetooth streaming
500-watt speakers
Subwoofer and tweeter
With an easy-to-use front panel for adjusting your audio EQ and a quick-charging battery, this is a surprisingly lightweight and reliable Bluetooth Boombox with amazing performance.
Good
Flashing DJ lights
FM radio streaming
Multiple input options
Bluetooth 5.0 for great connectivity
Amazing range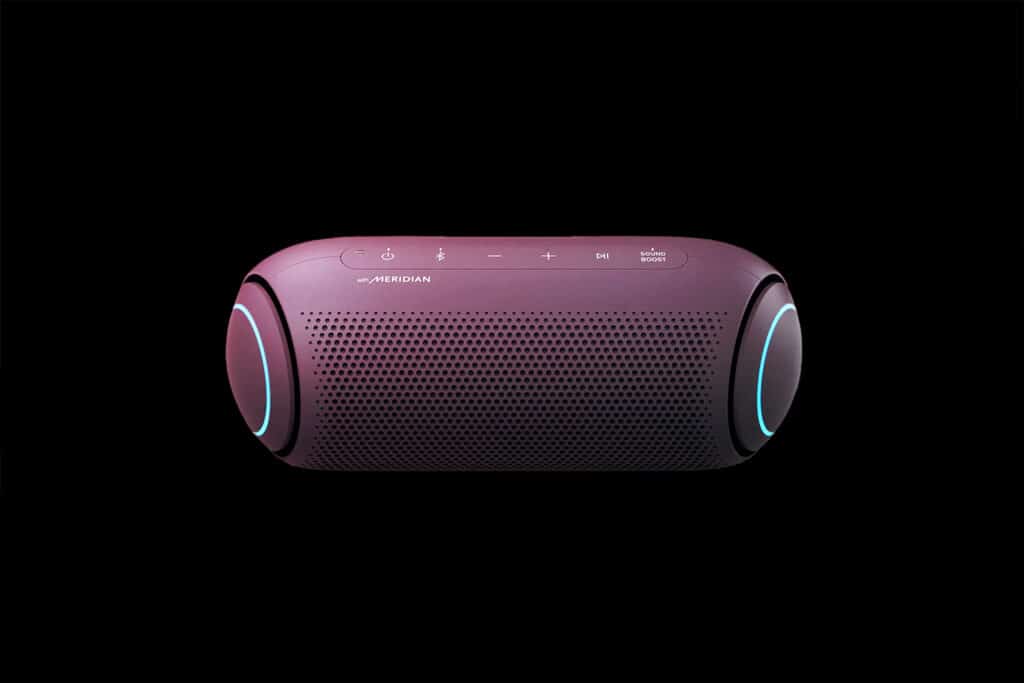 8. LG XBOOM Go PL5 (best with microphone)
Another amazing example of the best Bluetooth boombox speaker for today's music fans, the LG XBoom is a highly rated product for 2021 and beyond.
During our Bluetooth boombox review, we were blown away by the amazing Meridian technology sound with crisp dual-action bass and clear vocals.
The XBOOM Go offers 18 hours of battery life, with beat lighting for when you want more fun at your event and a stylish design to travel with you anywhere. The IPX5 water resistance ensures peace of mind even when the rain starts, and there's a handy party link for Bluetooth syncing.
Voice command support is enabled via a built-in microphone.
Features include:
Microphone support for smart speaker access
Wireless linking of multiple devices
IPX5 water resistance
18-hour battery life
Stylish and portable design
Beat lighting with color options
Dual action bass
Meridian technology sound
Fully tested under laboratory conditions, the LG XBoom is a reliable and easy-to-use device with great sound and fantastic Bluetooth connectivity.
Good
Smart assistant access with built-in speaker
Connectivity for multiple devices
IPX5 water resistance
Stylish and portable design
Beat lighting included
Bad
Battery life could be better
No carry handle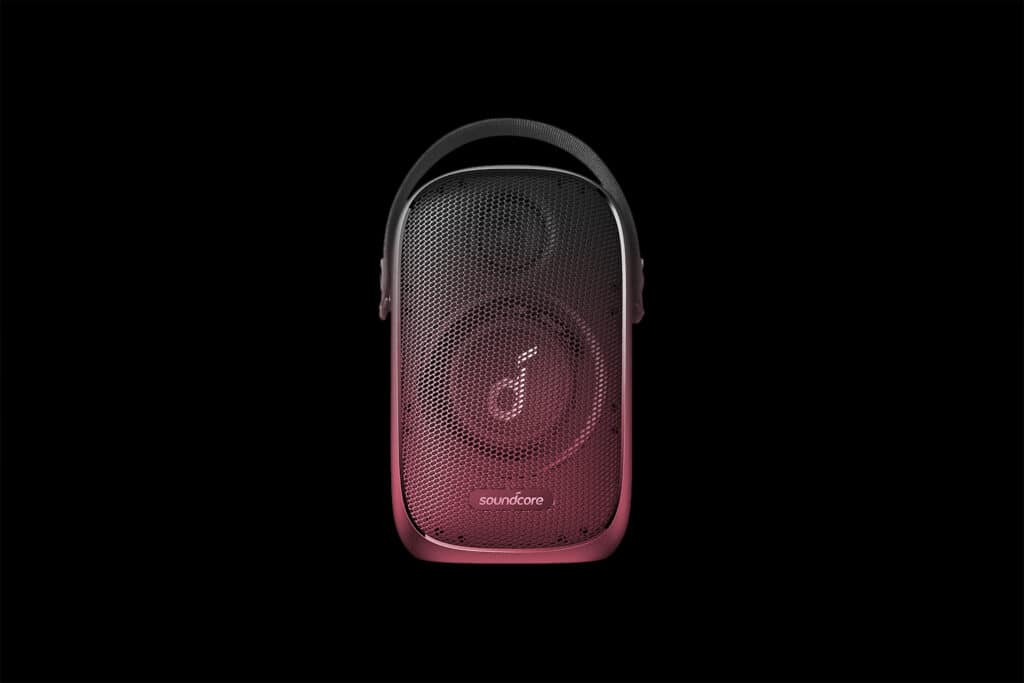 9. Soundcore Trance Go (best syncing)
A robust product created by the Soundcore team, the Trance Go had to make our list of the best Bluetooth boombox speakers. This amazing portable device comes with a sturdy handle for portability, and a fully waterproof coating for peace of mind.
You can even submerge the speaker in water thanks to its IPX7 protection.
With 24 hours of playtime depending on your usage, the Soundcore Trance can last all day. Intense bass is delivered through pioneering BassUp technology, while PartyCast technology allows users to connect up to 100 speakers at once.
If you want an actual wall of sound from your boombox, Anker have got you covered.
Features include:
Amazing volume up to 98DB
Syncs with up to 100 other speakers
BassUp technology for powerful sound
Waterproof performance with an IPX7 rating
24-hours of playtime
Built-in USB port for charging
Helpful carry handle
Not only do you get an amazing battery life and sound performance from the Soundcore Trance, but there's also a built-in USB input where you can charge your smartphone on the move.
Good
Excellent syncing potential for up to 100 speakers
24-hour playtime with charging port for phones
IPX7 waterproof casing
Powerful volume performance
BassUp technology
Bad
Controls could be more intuitive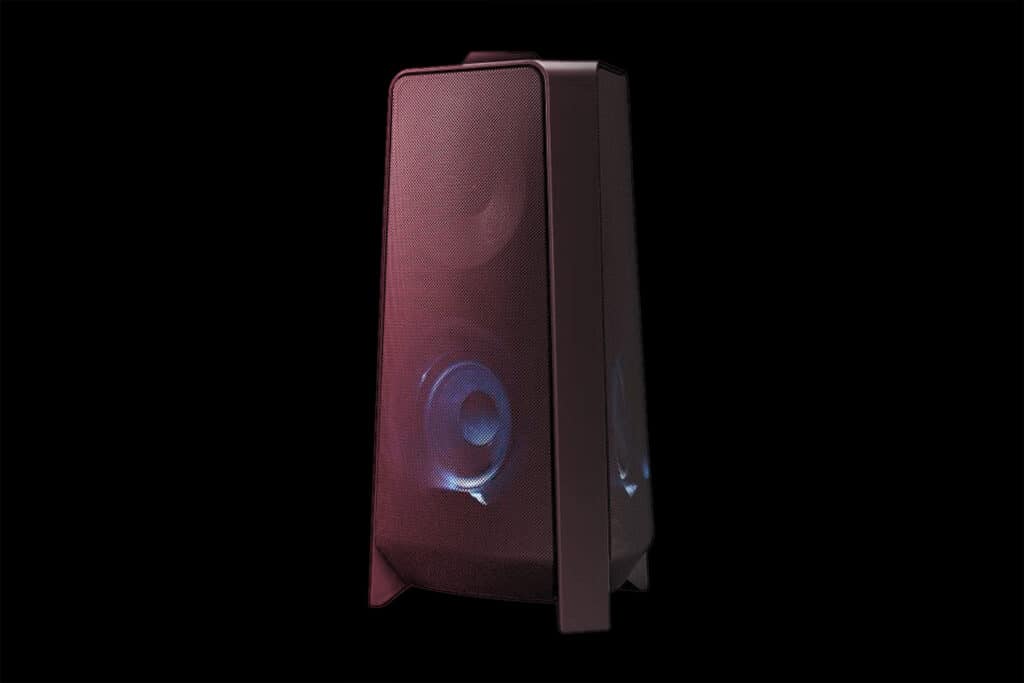 10. SAMSUNG Sound Tower MX-T50 (best bi-directional)
Make sure you have what it takes to fill the entire room with sound from your Bluetooth boombox speaker.
The amazing SAMSUNG MX-T50 is a state-of-the-art tower speaker with 500 watts of bi-directional sound, to transform any atmosphere. While dynamic bass gives your music an immediate boost at the touch of a button, and you can even turn on karaoke mode with a mic input.
Wi-Fi enabled for quicker, more reliable streaming, and Bluetooth ready, this wonderful rechargeable Bluetooth speaker is sure to impress friends and relatives. We love the addition of subtle but effective LED lights, so you can really get the party started.
Features include:
500 watts of speaker power
Bi-directional sound performance
Dynamic bass boost at the touch of a button
LED party lights
One microphone input
Wi-Fi and Bluetooth enabled
USB connectivity
Amazing included app
Sync with multiple devices
Splash resistant
The splash-resistant coating protects your speaker even when you're playing music outside, and you can connect two devices at once to share DJing power. The Samsung Tower also comes with a fantastic built-in app for controls.
Good
Excellent bi-directional audio
Easy-to-use and intuitive app
Dual syncing for multiple devices
Splash resistant
LED party lights
Bad
Some limitations to bass performance
Finding the right Bluetooth boombox
Choosing the right rechargeable boombox for your needs can seem like a daunting challenge, particularly with so many great options on the market above. You've probably already pinpointed a few products from our Bluetooth boombox reviews you're keen to learn more about.
If you're still not sure where to start narrowing your options, here are a few points to consider:
Portability
A wireless boombox speaker is intended to be a portable device. You need something you can take with you on the move, whether you're just hanging out in the garden, going on a camping trip, or visiting the park.
To ensure your device is portable, look for something that's relatively lightweight and designed with a handle or another carrying mechanism.
Power
The best portable Bluetooth boombox will also offer a battery power or rechargeable battery option so you don't have to stay plugged into a wall socket. A rechargeable boombox is often the best bet if you want to save a fortune on battery purchases.
Make sure you know exactly how much power you're going to get from your device, and how long it can last. The best rechargeable boombox options may also have a quick charge mode.
Durability
As you may have noticed in our Bluetooth boombox reviews, many of these devices feature elements to make them more durable and prepared for the outside world.
The best wireless Boombox solutions will feature a combination of high-quality materials, waterproofing certifications, and other solutions to protect your investment.
Look for a strong and durable boombox ready to stand the test of time.
Music options
A Bluetooth boombox can often play a wide range of music sources – aside from streaming direct from your phone. Start by looking for the latest Bluetooth 5.0 or above connection, and make sure the device is compatible with your smartphone.
After this, look at things like CD player access or the option to plug-in SD and USB cards. In some rare cases, your wireless Boombox speaker might also have an FM radio option.
Extra features
A boombox radio today can come with a host of amazing features, including the option to charge your smartphone on the move or access a range of flashing lights for a bit of party fun.
There are tons of other features you can look for, such as an NFC connection or an in-built microphone for smart speaker access. Some devices also come with ports for connecting your microphone or guitar.
Ease of use
Although a feature-rich Bluetooth boombox is a significant investment, you still want your device to be easy to use. Look for a product with a set of simple controls and a great app so you can control things like EQ with ease.
Amazing sound
Finally, perhaps more than anything else, your Bluetooth boombox should include amazing sound, so you know you're always going to be able to immerse yourself in your favorite music.
Look for a distortion-free performance at any volume, and examine the hardware in the speaker for sound quality insights.
For more advice on the best boombox speakers available right now, check out our other reviews here on Unwired for Sound. Good luck finding the best Bluetooth boombox.
Unwired for Sound: Set your audio free.