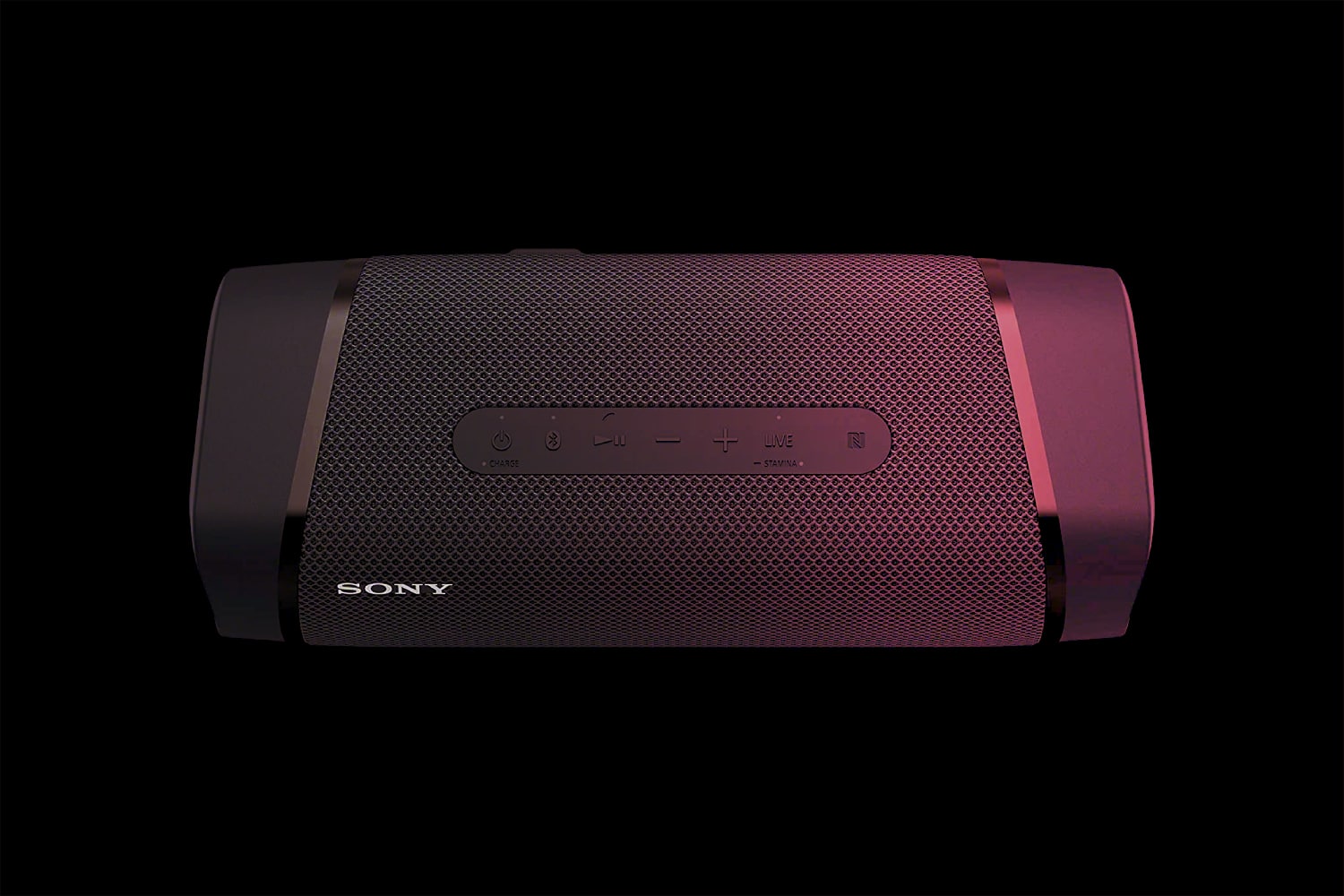 Sony is one of the most popular technology companies globally, and it's easy to see why.
Known for sensational high-quality technology and amazing innovations, Sony constantly delights the world with active noise cancellation, intelligent speaker systems and more.
Alongside other popular big-name brands like Bang and Olufsen or Bose, Sony ranks among the leaders in the audio world, with a ton of great products to offer.
Today, we're looking at one of the top contenders among Sony's list of extra bass wireless speakers.
The Sony SRS-XB33 Extra Bass speaker is a sensational portable product designed to give you the audio you want on the move. Attractive and durable, this speaker can get the job done in any environment.
Let's take a closer look.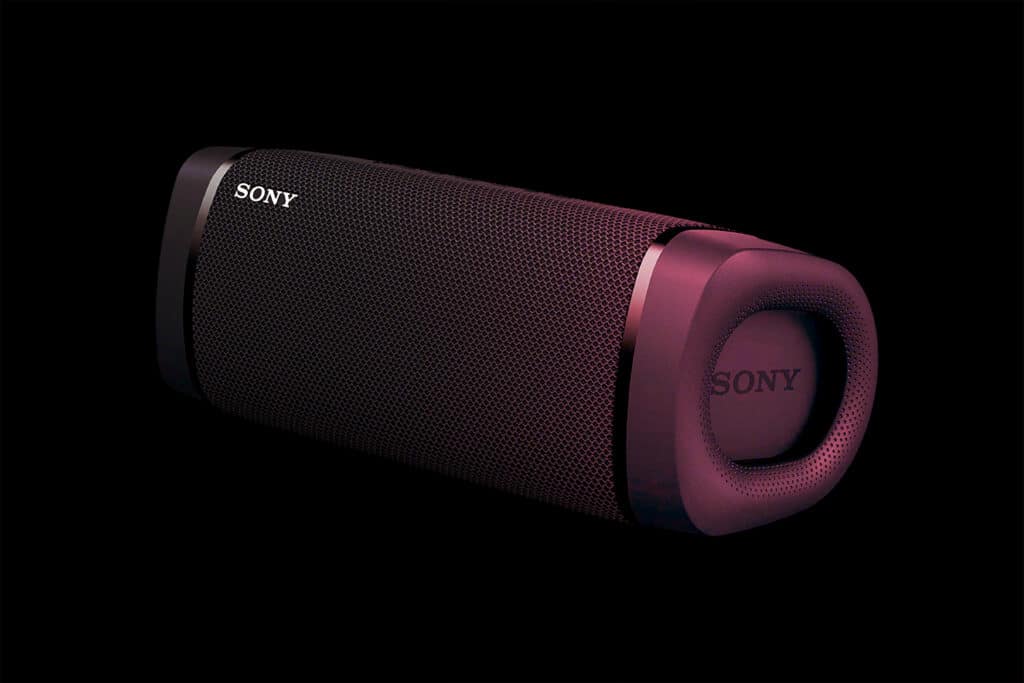 Sony SRS-XB33 review: Design and size
Sony are getting creative with their SRS-XB33 speaker line. The product comes in a range of colors, from shocking red through to dusky pink.
We tried the standard black option, which comes with bright blue accents that give the Sony speaker a sporty feel.
Despite relatively compact packaging, the Sony SRS-XB33 is a little larger than we expected. The bulky size gave us some extra confidence that this product should be able to deliver some decent sound. Of course, extra weight also means less portability.
Overall, the speaker looks and feels professional, with a weighty finish that highlights the quality of the materials.
There's a leather effect edging around the sides to support the premium aesthetic, and this material also helps to protect against unwanted damage to your surfaces when you put the speaker down on a table.
A handy set of rubber feet will keep your Sony SRS-XB33 upright wherever you do choose to place it, and if you look at the top, you'll find a set of tactile controls. Here, you can access volume, play, pause, Bluetooth pairing, the power button and "live mode".
There's even a microphone built-in in case you need to use your speaker for hands-free calls.
An extra bonus of the Sony speaker system design for the SRS-XB33 is that it comes with IP67 weather resistant, so it's not going to suffer from any problems when you splash it at the beach or on a rainy day.
You can even spill a drink on it and the speaker should be fine – though we wouldn't recommend testing this out on purpose.
Sony SRS-XB33 review: Features
A surprisingly robust speaker for its compact size, the Sony SRS-XB33 checks a lot of boxes feature-wise. It floats in water, and it's durable enough to take with you on the move.
The built-in microphone means you can access hands-free calling, plus there's an LED lighting system included in case you want to take your party with you wherever you go.
Shockproof and brimming with power, the Sony speaker system promises to give you a great audio experience wherever you are.
There's an included Music center app for Apple and Android where you can control your LED light-show, disable the lights, access various EQ settings and so much more. There's even the option to experiment with your Bluetooth connections in the app too.
Features of the Sony SRS-XB33 include:
Extra bass
Live sound mode for multi-directional music
IP67 weather-proof design
24 hour battery
Excellent LED lighting
Adjustable EQ through the included app
Sync up to 100 speakers
Bluetooth 50.0
AAC and SBC codec support
Speakerphone function for hands-free calling
Durable shock-proof materials
Range of colors to choose from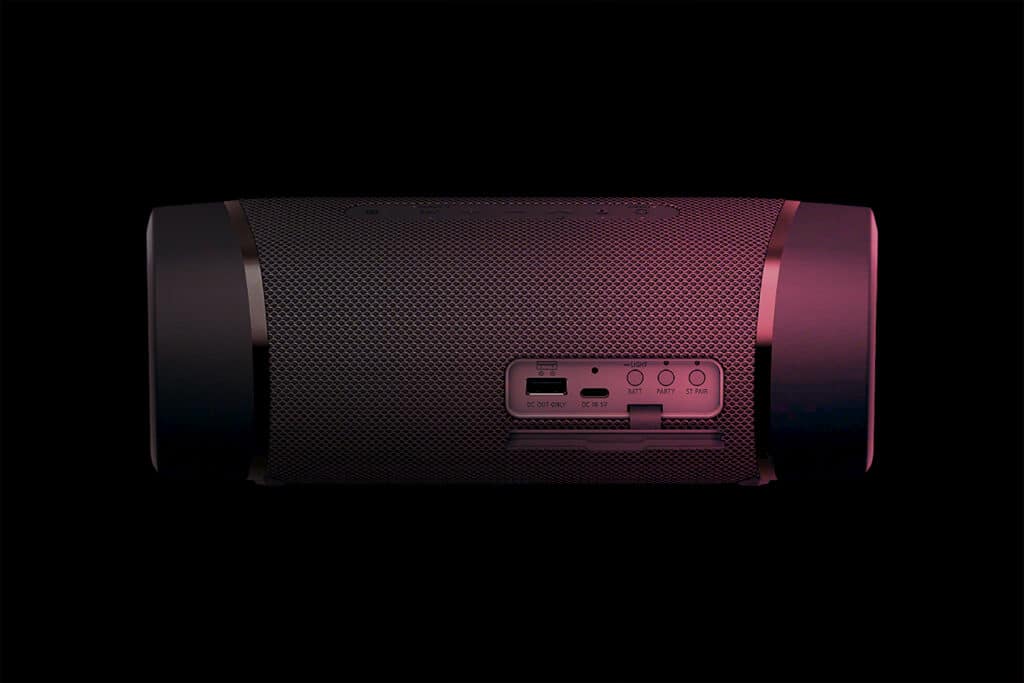 Sony SRS-XB33 review: Connectivity
From a connectivity perspective, it's hard to grumble too much with the Sony SRS-XB33. As you'd expect from a leading Sony speaker, Bluetooth 5.0 is included as standard, and you also get support for AAC and SBC codecs.
If you have an NFC ready phone then the speaker can link to it with nothing but a tap – making accessing your music even easier. The biggest downside is that there's no AptX included for latency-free speaker sessions.
On the plus side, the sensational syncing features of this Sony speaker mean that you can connect up to 100 of these speakers in the same area. That means you could control dozens of speakers with the same music and lights – if you're lucky enough to have that many!
Party mode makes it simple to connect various speakers fast.
Sony SRS-XB33 review: Performance
A great Bluetooth connection and an intriguing lightshow are some of the most attractive features of the Sony SRS-XB33. However, your purchasing decision is likely to come down to one thing – how it sounds.
This Sony speaker system definitely delivers on its promise of Extra Bass. The balanced speaker unit helps to deliver a full breadth of sound in every direction, with punchy lower levels that really transform any party.
Sony's state-of-the-art technology delivers some amazing audio here, with the extra low levels carefully tuned to reduce the risk of distortion or added noise. The off-center design and unique eight balance helps to improve the soundstage and enhance the clarity of your music.
Your sounds will come over as bold and full, with plenty of mid-range and higher frequency clarity to balance out the lower levels – which is rare on a bass-heavy speaker system.
Although the high ends don't stand out as much as the bass, they're definitely good enough – and you can always make adjustments with the EQ system if you prefer.
Don't forget to check out the Live mode for a sensation like you've been thrown into the middle of a presentation, with three separate systems all delivering a 360-degree music experience.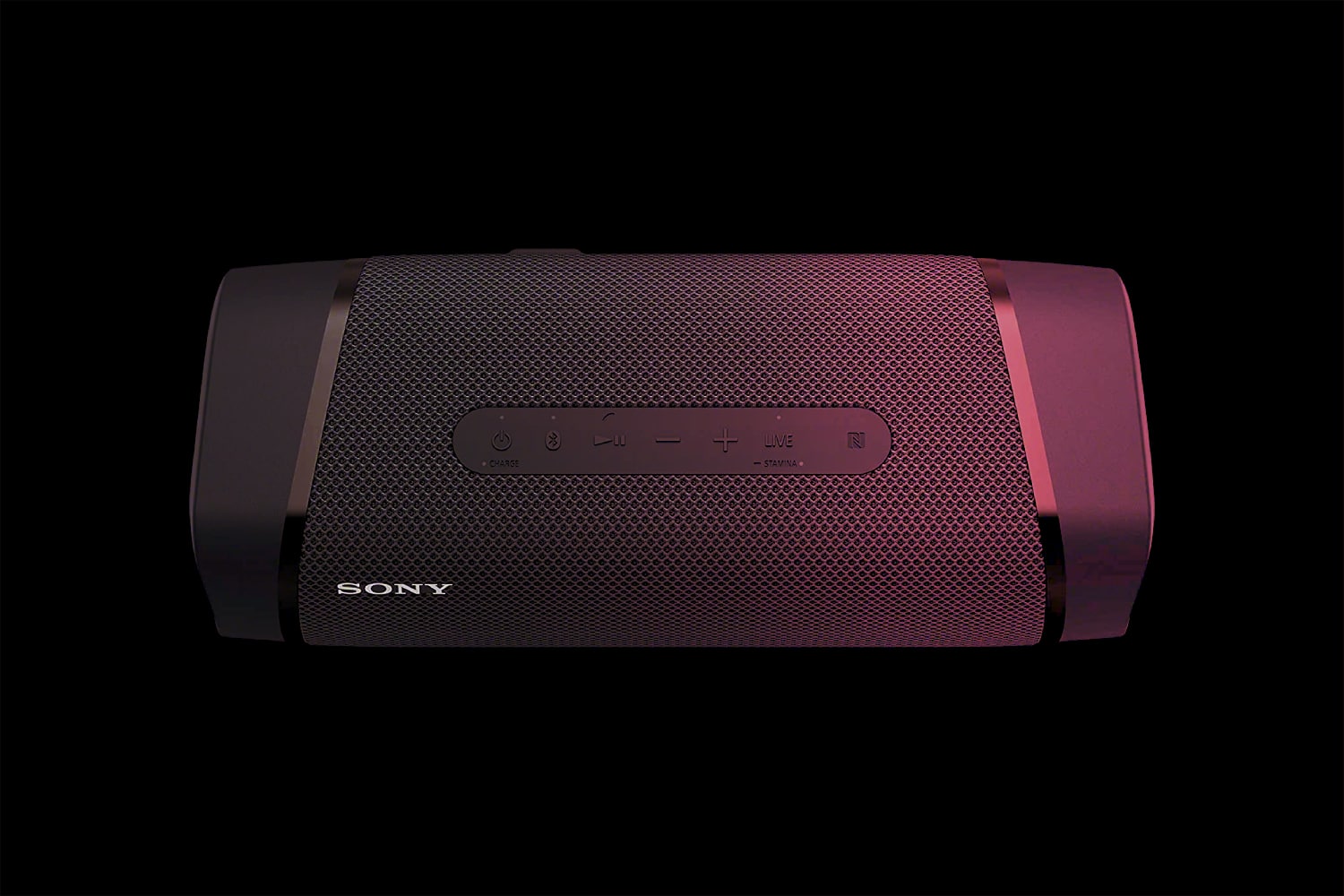 Sony SRS-XB33 review: Verdict
If you're looking for a portable speaker that delivers excellence in the form of high-quality bass, great audio clarity, and amazing volume, this is the product for you. This Sony wireless speaker is one of the most durable out there, and it's extremely reliable when you consider it's price.

A lack of a AptX Bluetooth codecs may be disappointing to some, and there's no in-built speaker assistant, but there's not much to complain about with this Sony product.


Good
Attractive design in a range of colors
Unique technology for great bass
Amazing rich sound stage in any environment
IP67 rating to protect your speaker
Portable for a party wherever you go
Fantastic lighting effects that you can control
EQ management through an intuitive app
Powerful volume
Bluetooth 5.0 with advanced codecs
Small enough to throw in the back of a car
Bad
No AptX codec
No built-in smart assistant