Tronsmart is a growing brand in the Bluetooth speaker market.
Offering a combination of durability, and affordability, this company makes it easier for anyone to purchase the ideal Bluetooth speaker.
Although Tronsmart might not carry the same weight as Ultimate Ears or Bose yet, the company has a lot to offer.
Whether you're looking for a deep bass solution or just a speaker you can take to the beach, there's something for everyone. Today, we're looking at the Tronsmart T6 Plus.
The T6 Plus is a cylindrical portable speaker with high-performance Bluetooth and up to 40W of power output. This speaker is also wonderfully durable, with IPX6 water resistance to withstand heavy splashes.
Let's take a closer look.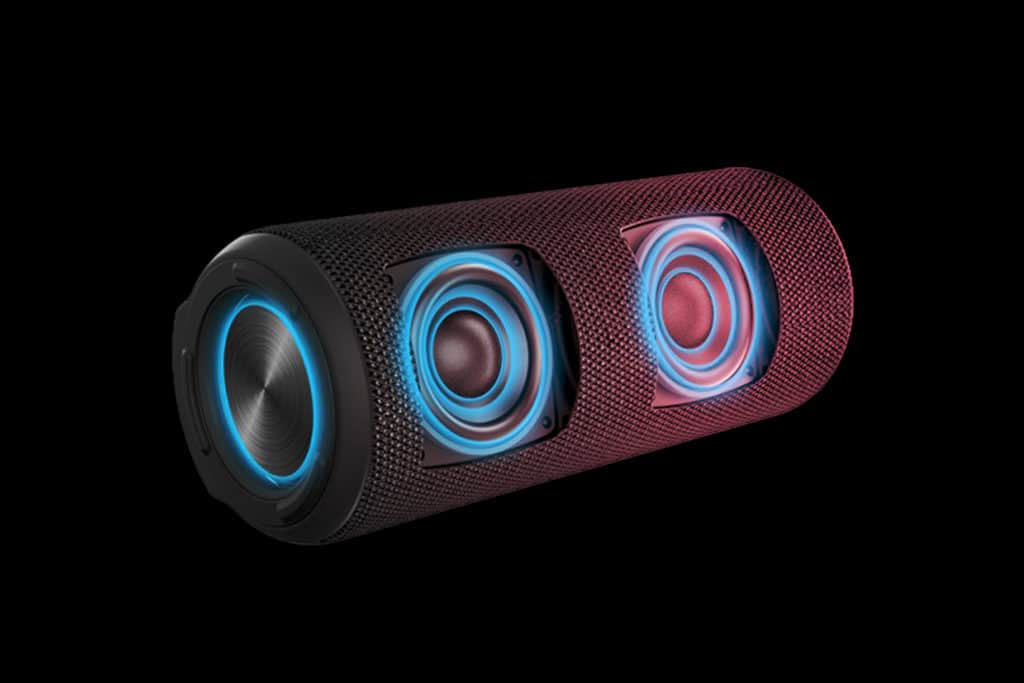 Tronsmart T6 Plus review: Design and size
The T6 Plus is a leading portable speaker from Tronsmart. This is the latest version of the T6 speaker that helped Tronsmart to begin its rise to fame. Sometimes referred to as "The Element", this device stands out for its rugged durability and reliability.
While you might not be able to fully submerge the Tronsmart T6 Plus in water, you can expose it to heavy splashes without issue. Even with the unpredictability of weather to consider, you'd have no trouble taking your Tronsmart to the park or using it for your next BBQ.
Design-wise, there isn't too much to say about the T6 Plus. It has the stretched cylindrical shape that seems popular in the portable speaker market these days. You can also choose between either red or black as the primary colour for your device.
At the very top of the speaker, there's a multifunctional control wheel that makes managing your music simpler. You can press the wheel to play or pause a tune, twist to adjust volume or hold the button for 3 seconds to activate your voice assistant.
You can also find all the essential buttons for rewind, fast-forward, and power on the front face of the speaker.
Tronsmart T6 Plus specs:
Size: 8.2 x 8.2 x 20.3cm
Weight: 671g
IPX6 waterproofing
2 lithium-ion batteries
15 hours of playtime
40w audio output
Power bank function
Bluetooth 5.0
Tri-Bass EQ
Tronsmart T6 Plus review: Features
Despite a shockingly low price tag, the Tronsmart T6 delivers a lot of functionality. You'll find fifty percent more wattage than the previous generation, and the T6 Plus also comes with smart assistant access.
The option to connect your device to Alexa means that you can easily shout instructions when you're at the other end of the garden, with no need for a remote.
Another huge bonus to the Tronsmart T6 Plus is its water-resistance rating. This is a device that's capable of withstanding rain and dust alike.
If you prefer to keep your music with you when you're travelling or hanging out in the great outdoors, you'll love the Tronsmart speaker.
Along with special features like voice assistant support, the T6 Plus also features some capabilities that you would expect from a high-performance Bluetooth speaker.
You can couple your device with another to create stereo sound, and there's an emergency charge function too. Just plug your smartphone into the device USB port to start charging.
We're particularly fond of the multi-functional control wheel, which makes interacting with your speaker feel a little more futuristic.
For a price of under £60, features include:
40 Watts of power output
Wireless range of 66 feet
Bluetooth 5.0 for quicker pairing
Excellent stereo surround-sound support
15 hours of battery life
Voice assistant support
Emergency power bank function
Hands-free calling with built-in mic
Multifunctional control wheel
360-degree surround sound
IPX6 water resistance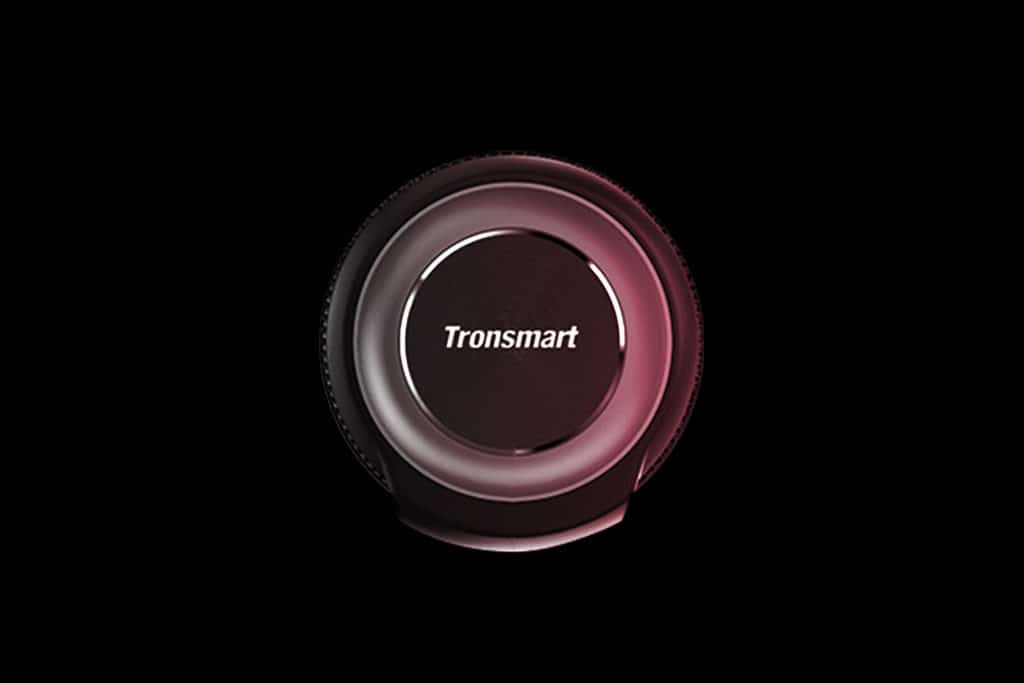 Tronsmart T6 Plus review: Connectivity
Connectivity is one of the things that makes the Tronsmart T6 Plus stand out.
This low-cost speaker delivers the latest in Bluetooth connectivity: Bluetooth 5.0. Access to the latest and greatest Bluetooth functionality means that you get a better range for your connection – up to 66 feet.
Additionally, Bluetooth 5.0 offers a much more stable connection.
Linking your device to the Tronsmart T6 is a breeze. There's no NFC option, but pressing the Bluetooth button on the speaker should get you a link in no time.
It's also extremely easy to connect other Tronsmart speakers with the TWS function if you want to create a stereo-level experience.
Since Bluetooth 5.0 is also backward compatible, it can work with all your other Bluetooth adapters too.
Aside from streaming content from your phone, the Tronsmart T6 Plus also allows for wired connections with an aux-in. There's also a USB slot and a Micro SD card slot too.
What's more, because voice assistant access is available, you also have the option to control your music with Google Home or Amazon Alexa.
The built-in microphone with this Tronsmart speaker is also helpful for hands-free calling. Although, it is worth noting that the microphone quality isn't as clear as it could be.
Tronsmart T6 Plus review: Performance
The Tronsmart T6 Plus offers surprisingly fantastic quality for such a low-price device. Easy to use, with a range of control options to choose from, this device will suit anyone who needs a simple portable speaker.
With voice control, there's nothing to stop you from skipping through tracks when you're chopping veggies in the kitchen or gardening out back.
From an audio quality perspective, the results you get will depend on a few factors, including the type of audio file you're playing. The good news is that a high-level Bluetooth connection means that high-fidelity files sound great.
You also get SoundPulse technology built-in, which delivers a combination of deeper bass, and crisper highs, without too much muddiness in the middle.
It's the advanced audio codecs in this device that ensures you continue to get an excellent quality of sound, even at higher volumes.
You can also experiment with the EQ tools built-into the T6 Plus to increase the bass and discover a new level of harmony.
The dual passive radiators and high-power speakers under the hood of this Tronsmart speaker mean that it can easily match or even outperform a lot of more expensive devices.
Tronsmart T6 Plus review: Verdict
Overall, the Tronsmart T6 Plus is a pleasant surprise.

Despite a low price tag, you can expect a sensational quality of sound, a durable build, and fantastic usability from every T6 Plus.

The addition of things like smart speaker access and Bluetooth 5.0 blew us away for a speaker that's less than £100.

There are some downsides, of course. Tronsmart's T6 Plus seems to fall asleep without warning at times, and the battery doesn't always last as long as it should.

If you're looking for great sound on a budget, though, the Tronsmart T6 Plus is worth a try.
Good
Bluetooth 5.0 connection
Sync with other devices
Durable build quality
Splash resistant design
Voice assistant access
Good sound quality
Significant volume
Easy to use functionality
Bad
Battery life struggles at times
Falls asleep almost at random
Won't provide the same audio quality as bigger speakers