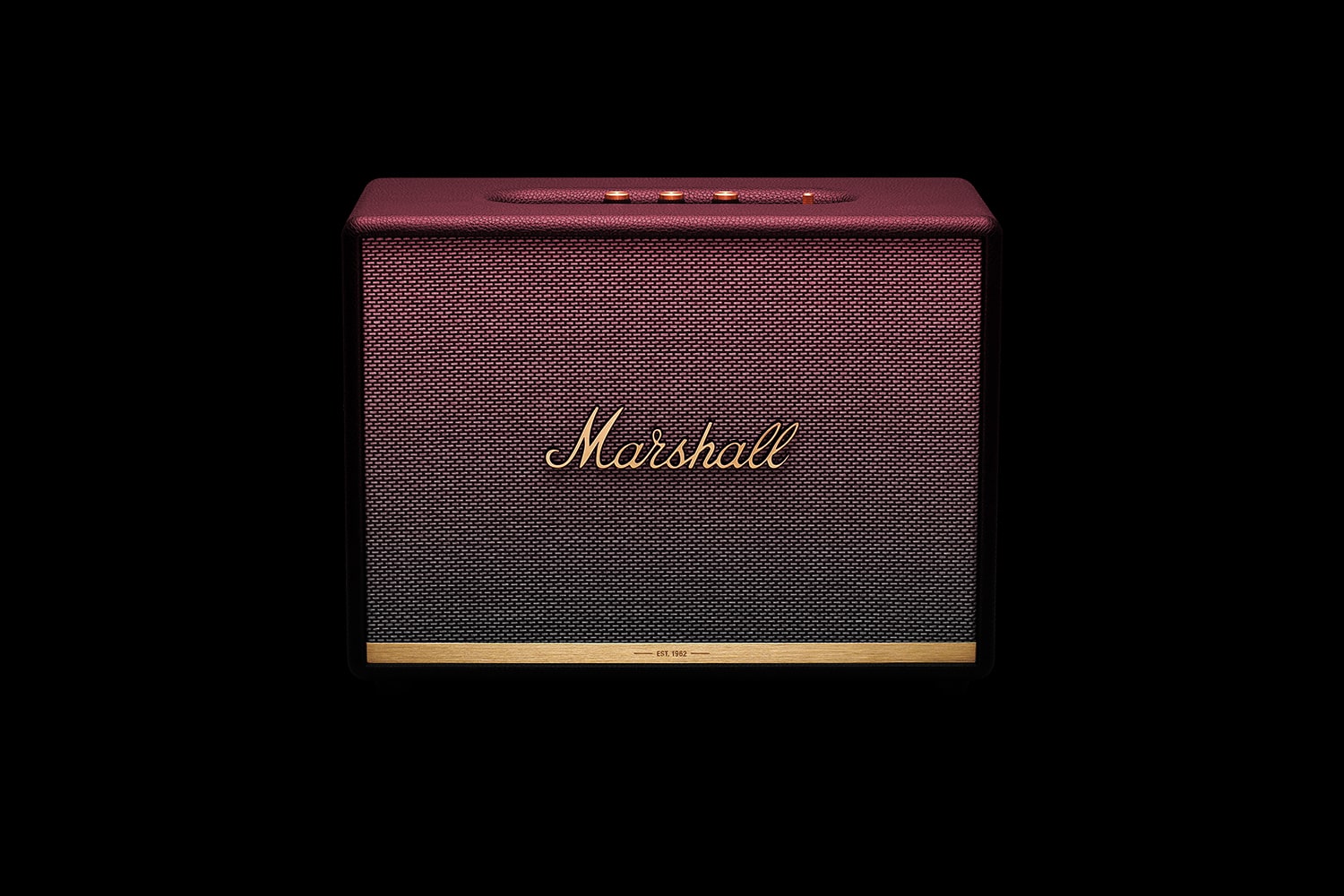 Marshall is an iconic name in the music industry.
If you're a lover of rock and roll, or you've ever toyed with the idea of becoming a musician, then you'll probably have some kind of relationship with Marshall already, thanks to its amazing range of studio and live amp gig gear.
Marshall amps have graced the stages of countless rock and roll legends.
However, recently, the company has begun to move away from its roots in classic amplifiers, to experiment with the home audio and speaker space.
The Stanmore, Acton, and Marshal Woburn speaker are all examples of incredible Bluetooth speakers designed by the Marshall brand.
Although all of the speakers (and headphones) produced by Marshall have something unique to offer, it's the Marshall Woburn 2 that seems to deliver the most when it comes to embracing the Company's hard-rock heritage.
That's why we chose the Woburn 2 as the introductory model for our Marshall speaker reviews.
Let's get started.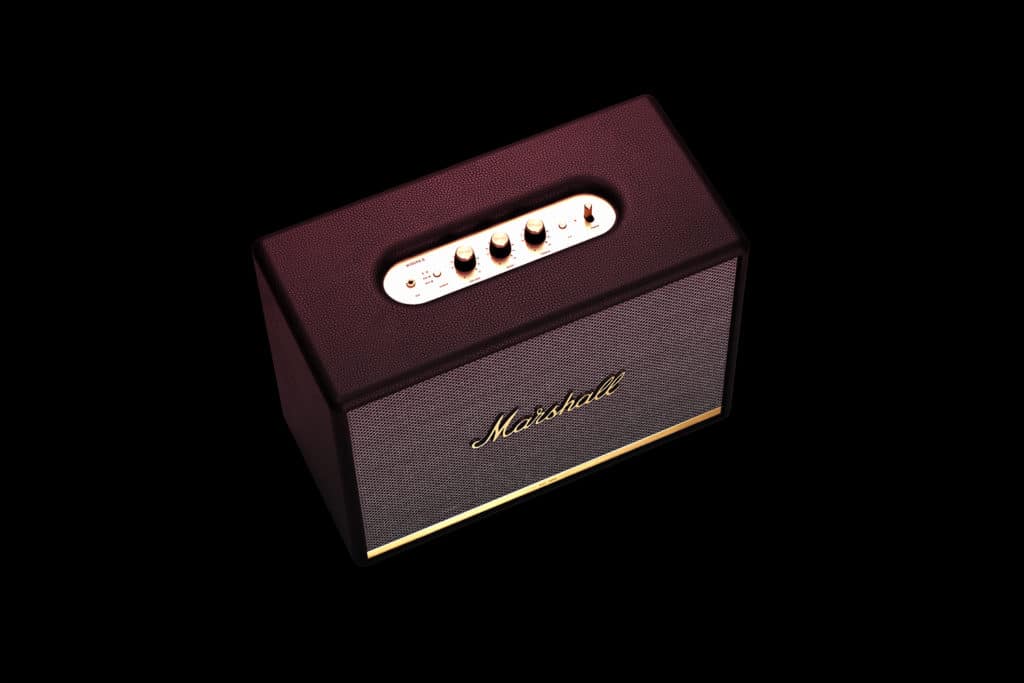 Marshall Woburn 2 review: Design and size
The Marshall Woburn Bluetooth speaker is an excellent example of a product that turns the dial all the way up to 11 for style and performance.
If you've ever played air guitar to your favourite song from the Sex Pistols or Guns and Roses, then you have just the right attitude for a Marshall speaker.
The Woburn 2 is as bulky and bold as a practice amp, brimming with stage presence. It's not the kind of lightweight portable speaker that you would take with you to your mate's house for a house party.
This is the kind of loudspeaker that people come to your house just to see.
The Marshall Woburn 2 is available in black, white, or brown, depending on your personal preference.
All options come with a distinctive golden brand in the centre of the grille, a gold strip at the bottom of the face, and a set of golden dials.
There's also a toggle for power, which mimics the traditional Marshall amp look.
If you're looking for an aesthetic that fades into the background, this isn't the device for you.
The Woburn 2 is loud in all senses of the world, with a bold appearance that's going to stand out in any room.
Marshall Woburn Bluetooth speaker specs:
2 one-inch tweeters
Dual 5.25" subwoofers
Class D amplifiers
110 watts of power
Wireless Bluetooth 5.0
Treble and bass control
30-20,000Hz
RCA and 3.5 mm input
Size: 20 x 50 x 31 cm
Weight: 8.55 kg
Marshall Woburn 2 review: Features
The Marshall Woburn 2 is all about making an impact, both in terms of visuals and sounds. It's not the most modern Bluetooth speaker we've seen, as it doesn't come with things like smart assistant access.
However, you do get Bluetooth 5.0, which we'll come back to in a second.
You can control the volume, bass and treble on a granular level with the Marshall Woburn 2, thanks to the top panel. What's more, there's a special Bluetooth app included for audio control too.
You can even access special pre-sets to help make your sound more compelling depending on what you're listening to.
The Marshall Woburn 2 speaker features multi-host accessibility, so you can switch between multiple devices, and there's the option to play music through a physical wire too.
If you're looking for a sound that you can tailor to suit your needs, this is the speaker for you.
Features include:
RCA and 3.5mm output
Fine-tune music control with Bluetooth app or analogue controls
State-of-the-art technology throughout
APTX audio codec for lossless sound
Bluetooth 5.0 connectivity
Two tweeters and dual subwoofers
Class D amplifiers
Incredible frequency options
Multi-host functionality
It seems a shame that this device doesn't include smart functionality and other features like wireless charging, especially for the price.
However, for just under $400 you get everything you need for incredible live-gig quality sound. No more, no less.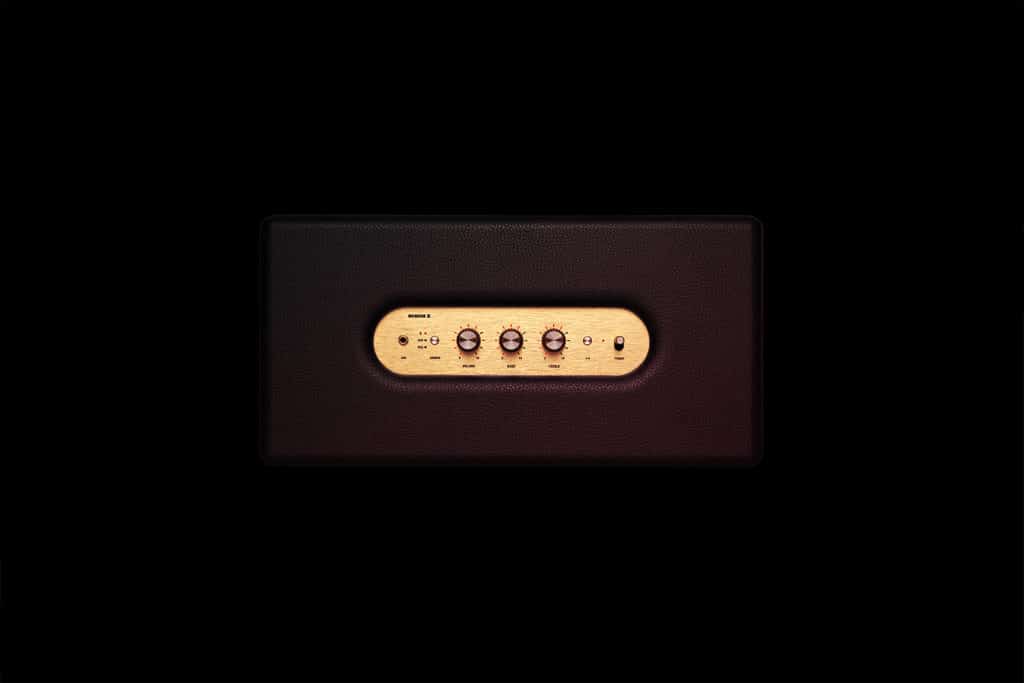 Marshall Woburn 2 review: Connectivity
Connectivity is one of the areas where this Marshall Bluetooth speaker really excels.
Marshall refuses to compromise on sound quality, which means that you can rest assured that you'll have a truly loss-less connection for your devices. You can connect to a Bluetooth device from anywhere up to ten metres away!
There's also multi-host Bluetooth, so multiple people can control your tunes.
Aside from the Bluetooth 5.0 connection, which helps to keep connectivity issues to a minimum, you've also got a range of aux in and aux out connections.
The Marshall Woburn Bluetooth speaker also comes with RCA connectivity for people who want to connect their device to a wider Hi-Fi system.
Once again, it would have been nice to see some smart features included at this price, but you do get a decent amount of technology for your money.
It also would have been nice to have somewhere to plugin in a microphone or a guitar too.
That's something you can do with larger JBL speakers, so it's odd that Marshall wouldn't offer it, particularly considering the company's background.
Marshall Woburn 2 review: Performance
Whatever device you hook into with the Marshall Woburn 2, you'll always get an amazing sound quality. While this Marshall speaker might be missing out on a few cool features, it definitely delivers on sound quality.
This speaker can generate volumes that are insanely loud.
You can hear it outside of sound-proofed rooms and ramp your music up to the point where it literally shakes your home's foundations.
Even at these ear-drum melting volumes, the incredible quality of the audio drivers and technology in the Marshall Woburn speakers means that you never lose clarity or accuracy.
This might not be a traditional party speaker, with no added extras like light-shows to speak of.
However, if you're looking for something that can deliver incredible volume and quality, then you can't go wrong here. It's just a shame that you can't add your own musical talents into the mix by plugging in a guitar.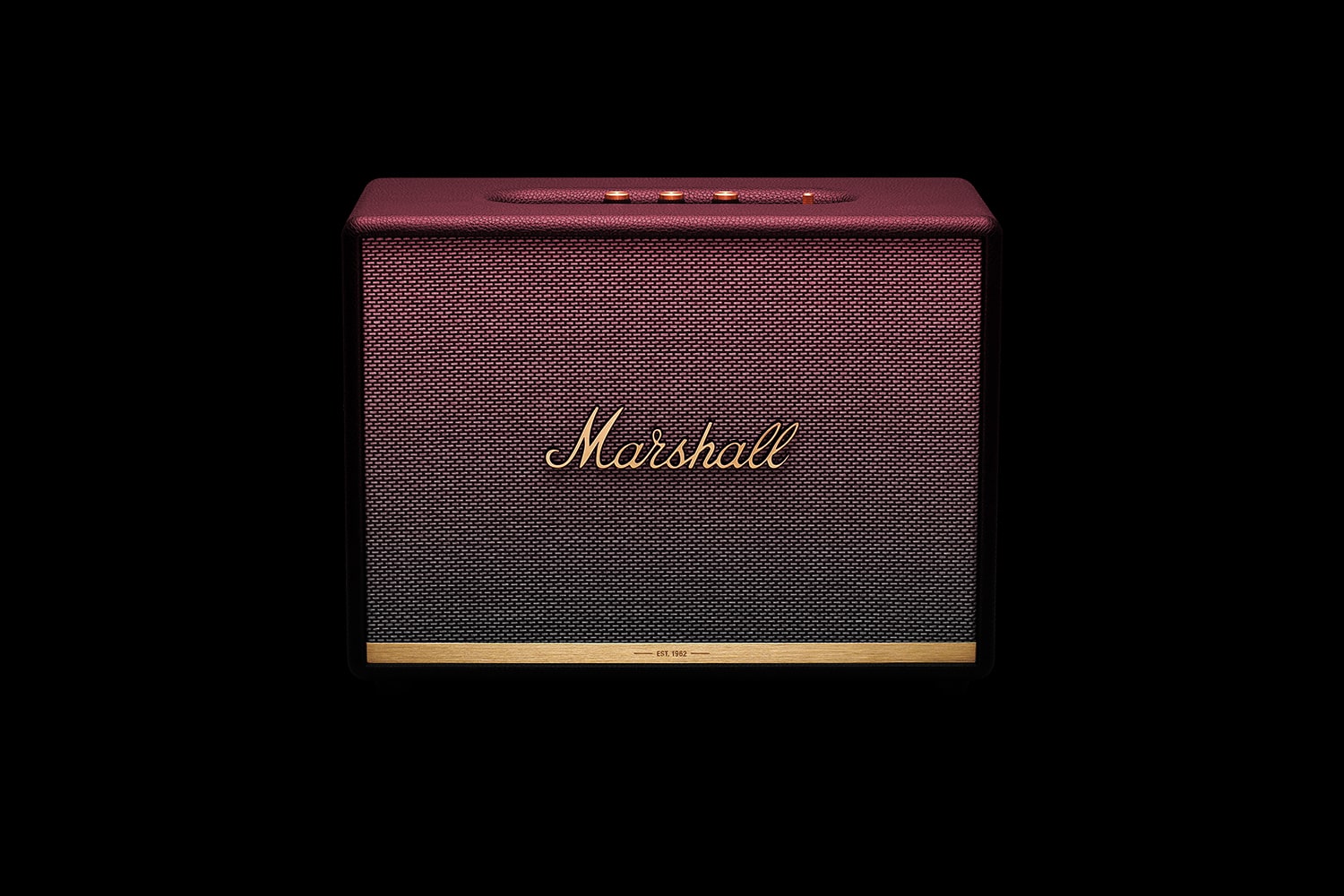 Marshall Woburn 2 review: Verdict
It's hard to argue with the quality of this Marshall Bluetooth speaker.

It looks like the perfect addition to any rock and roll home, with an iconic style that's just impossible to replicate. What's more, the volume and sound are second to none.

You even get the latest audio and Bluetooth codecs built-in to ensure that you don't miss out on any sound quality.

The only downside is that this speaker is very expensive for what you get. There are features that could have been included to give the Woburn some extra magic – but they just aren't there.

We love the Marshall Woburn 2, but we're just not blown away by it.
Good
Fantastic sound quality
Amazing volume
Great customer service (up to 90 day refund policy)
Looks amazing in any colour
Lots of control over sound quality
Easy to use app
Great for audiophiles
Incredible bass depth
Aux input/output
Bad
Missing guitar or mic input
Could benefit from smart assistant technology
Limited in functionality for the price
Super expensive