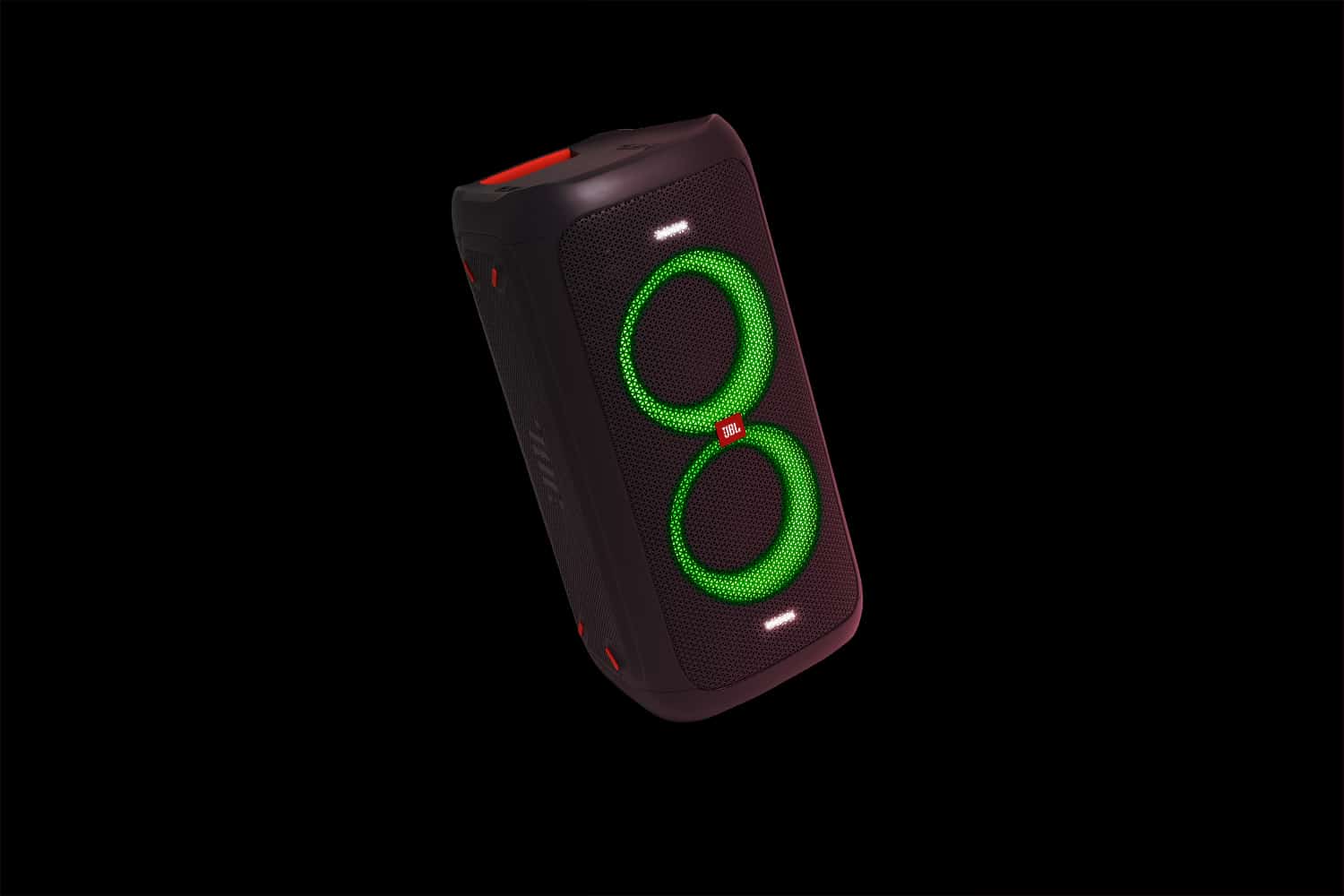 You don't have to be a party animal to fall in love with the JBL PartyBox 100.
This sensational Bluetooth speaker is designed to give you the freedom to take your tunes with you wherever you go. .
Not only do you get superb sound quality, thanks to 160 watts of pure power, but the JBL Partybox 100 lights up the party with a built-in LED light show perfect for those late-night get-together.
Compared to the somewhat bulkier products in the JBL Partybox line-up, the 100 is sleeker, smaller, and more compact so that you can carry it with you on the move.
This product is also the only option in the Partybox JBL Bluetooth speaker lineup that comes with the option to mount your speaker on a post and transform it into a versatile PA system.
Intrigued? Join us as we turn up the volume on this JBL Bluetooth speaker review.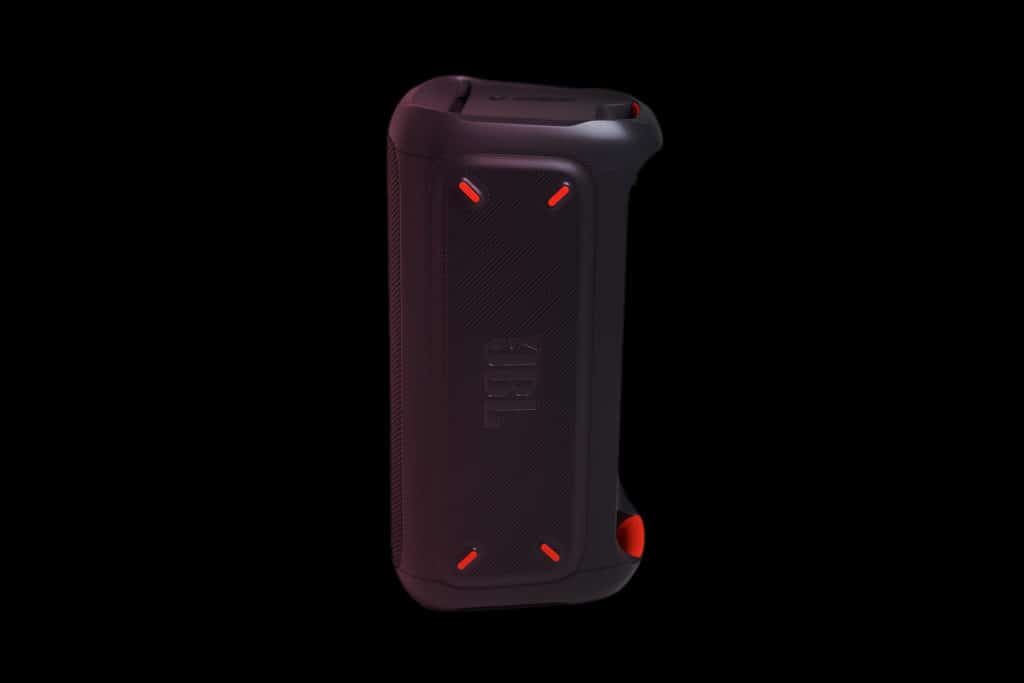 JBL PartyBox 100 speaker review: Design and size
The first thing that struck us when we put the JBL PartyBox 100 to the test was its size. Compared to other portable speakers, this machine is large.
It's not as chunky as some of the other PartyBox options, but it's still going to take up a decent amount of space in your car, or on your kitchen counter.
Despite the size, the design is surprisingly lightweight.
The PartyBox is versatile enough that you can either lie the JBL Bluetooth speaker down on its side or keep it vertical and tucked into a corner in smaller rooms.
Don't worry – you won't notice any impact on sound quality either way.
The JBL Partybox 100 is around 2 feet tall, which is a lot smaller than the PartyBox 300, but it still boasts plenty of power, with a 160-watt wireless speaker that can fill any room, or garden with sound in seconds.
The combination of two 2.25-inch tweeters and two 5.25-inch woofers give your sound quality plenty of extra depth.
Need more impact? No problem.
The Bluetooth capability of the JBL PartyBox doesn't just work for streaming audio. You can also link your JBL speakers together wireless for a true stereo surround-sound experience.
Remember, double the size means double the volume.
The JBL PartyBox 100 is also your only option within the PartyBox lineup if you're looking for an opportunity to mount your speaker with a pole and stand.
JBL PartyBox 100 Specs:
1 USB port
3.5mm audio input
Bluetooth connectivity
45-18,000 Hz
Size (WxDxH): 356 x 352 x 664 mm
Microphone output
Weight: 11.3kg
JBL PartyBox 100 speaker review: Features
For an impressively low price-point of around $300, we were shocked by just how many features there are to explore in the JBL PartyBox 100.
The machine comes with carry handles built-in, so you can easily lug it around from room to room in your house or take it out with you to your next big event.
Another unique component of the JBL PartyBox 100's design is the fact that it comes with its own built-in light show, courtesy of two LED light-strips in the centre of the cabinet.
Keep in mind that these lights are pretty basic. They don't totally follow the rhythm of the music, and there's only so many patterns you can create with your lights.
But it's an extra nice touch for those who want to create their own "party" at home.
The feature that really makes the JBL PartyBox 100 shine in our opinion (besides the LED lights), is the device's incredible battery power.
You can plug your Partybox into the mains if you want to, but you don't need to find an outlet either, with a battery that can last for up to 12 hours.
Other features include:
Full LED light show
Wireless stereo connections
160 watts of raw power
12-hour battery life
Mains power available
Aux, mic and guitar connections
USB input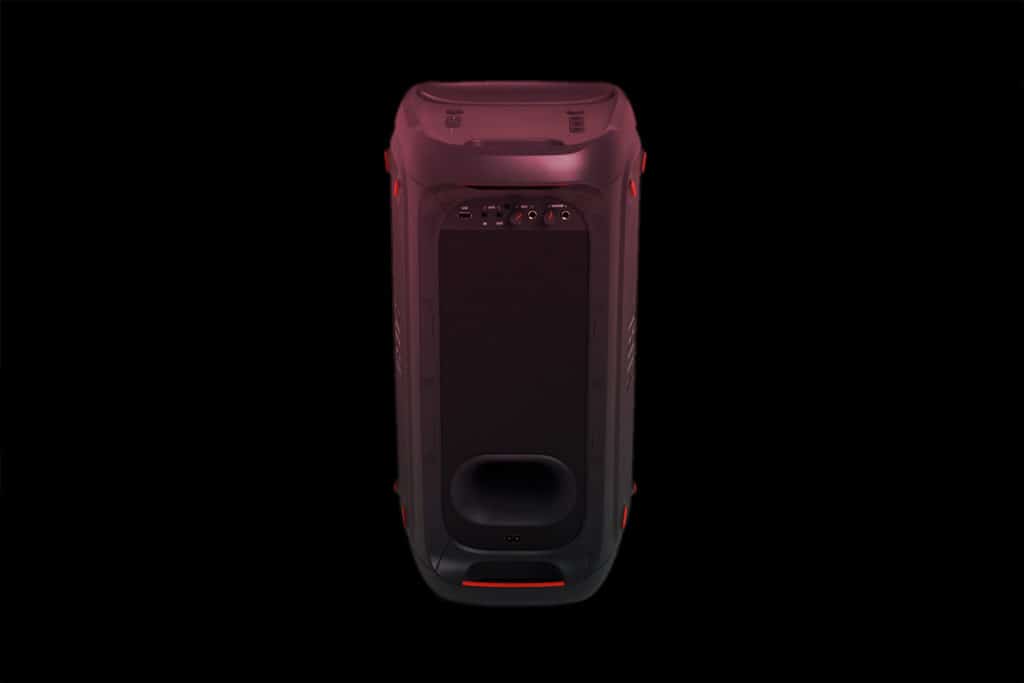 JBL PartyBox 100 speaker review: Connectivity
We wouldn't be much of a Bluetooth speaker review company if we didn't pay attention to the connectivity on the devices that we examined.
The JBL PartyBox comes with a wireless Bluetooth connection that you can pair up to two smartphones or tablets at the same time.
However, it is only basic Bluetooth, with no Bluetooth 5 connections.
Aside from Bluetooth connectivity, there are also various options for wired linking built-in too. If you want to make a wired connection, you can use the 3.5mm input to connect your phone.
There are also options to plug your microphone or guitar into the JBL PartyBox 100 and use it as a temporary amp if you feel like showing off.
If you've got a huge collection of music on a USB drive, the JBL PartyBox 100 can help with that too. There's only a single USB port, but you can use that to plug in your collection and let it play.
It's really that simple to get everything running smoothly.
JBL PartyBox 100 speaker review: Performance
One of the things that sets the JBL PartyBox 100 apart from the crowd when it comes to high-performance Bluetooth speakers, is how easy it is to use.
Whether you're streaming content from your phone or plugging in a USB playlist, the whole experience is very straightforward.
We managed to get one of our phones paired in seconds, and we were enjoying room-shaking volume in no time.
What's more, the fact that you can plug in things like guitars and microphones means that the JBL PartyBox 100 is more than just a speaker, it's an entire PA system when it needs to be.
Battery-wise, the JBL Partybox 100 can last for up to 12 hours on its own, or you can plug it into the mains power to make sure that the party really does last forever. You're not going to get this much volume for that long on many other Bluetooth speaker options.
Speaking of the volume and sound quality – we were incredibly impressed with that too.
It's worth noting that at the highest volumes, the JBL can get a little pitchy at higher frequencies, but we didn't notice much of a problem with most of the tunes that we tried out.
Overall, you get to enjoy every ounce of the 160-watt volume, without compromising on sound quality.
The only downside is that there's no option for equalising the sound. If you think that there's too much bass or treble, you can't adjust each feature manually, which may be a problem for some audiophiles.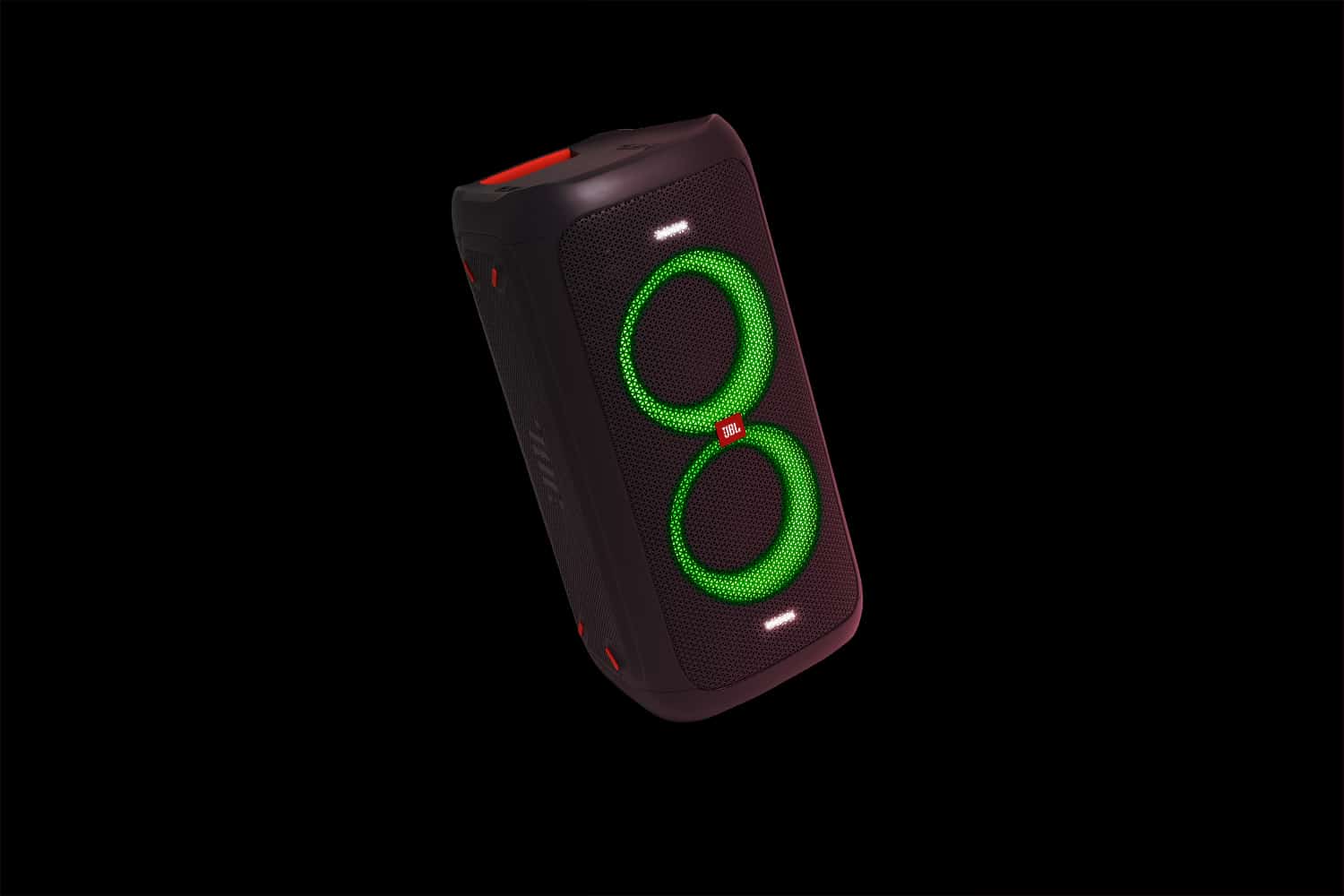 JBL PartyBox 100 speaker review: Verdict
So, how does the JBL PartyBox 100 compete in the floor-standing Bluetooth speaker category?

In our opinion – incredibly well.

For the price, you'll struggle to find anything with the same degree of power, quality, and performance anywhere else.

Plus, the PartyBox is one of the few Bluetooth speakers out there that can offer you amp support for your microphone and guitar too.
Good
Extra PA features built-in
Excellent range of connectivity options
High-quality volume and sound performance
Sleek and attractive design
Fantastic for use on the move
12-hour battery life
Light show included
Bad
Can struggle with high notes at loud volumes
Can overheat after excessive use