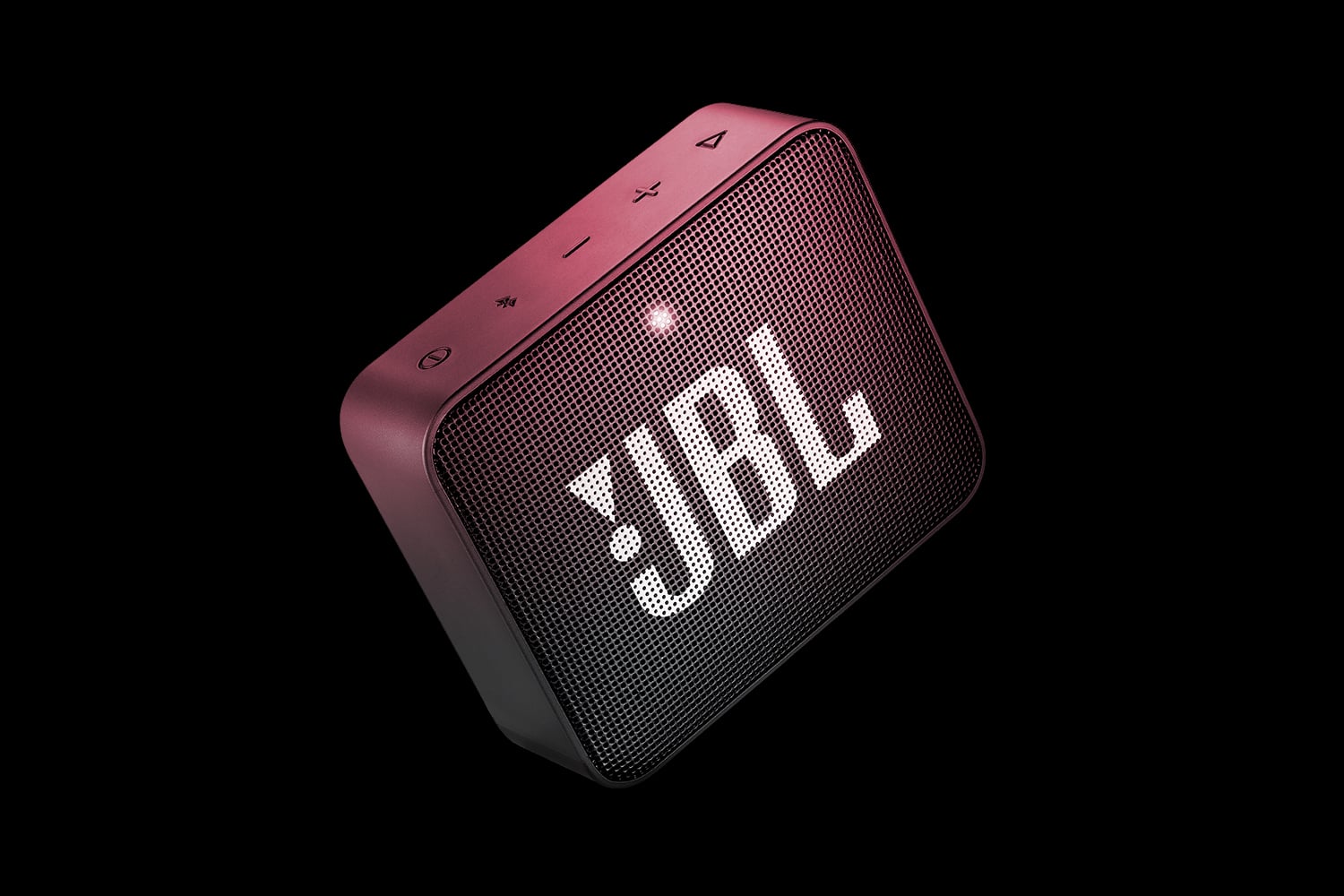 JBL is one of the most popular Bluetooth speaker brands in the UK.
Not only does it deliver plenty of excellent sound in its lineup of sensational speakers, but JBL goes above and beyond in design. The company also ensures that you get a device that looks great and stands up to plenty of abuse too.
Many of the leading products from JBL are packed with extra features, like waterproofing, smartphone charging, and even party lights.
The JBL Go 2 might not be the most advanced Bluetooth speaker from JBL, but it is one of the best options for those in search of portable sound.
Small and lightweight, this handy pocket-sized speaker blows the competition away for a durable speaker that's ready to grab n' go.
Read on for our full JBL Go 2 review.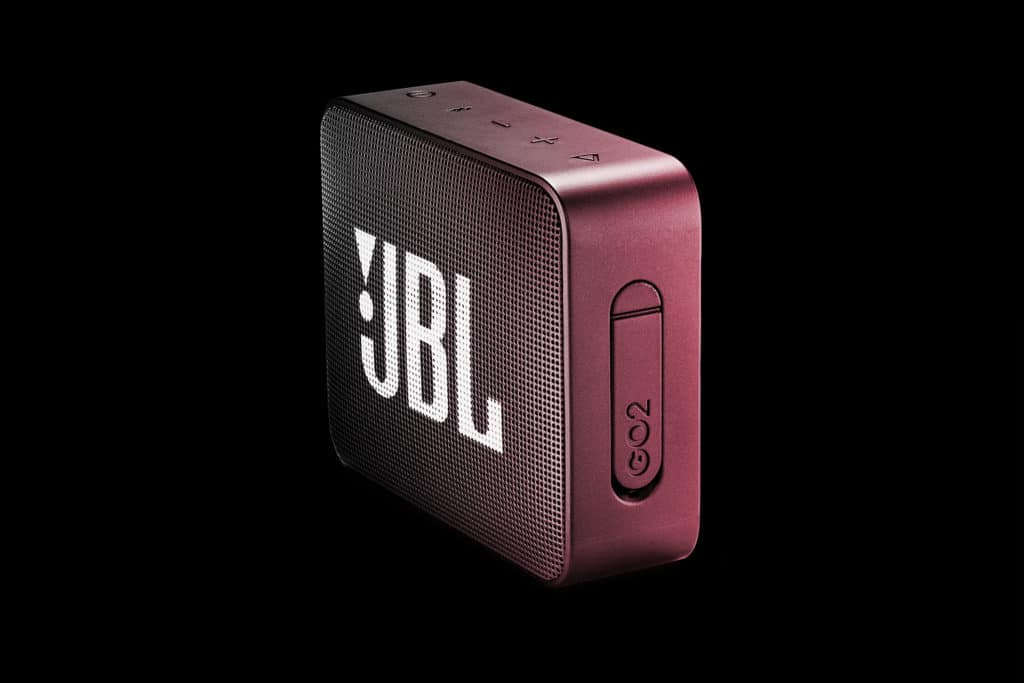 JBL Go 2 review: Design and size
Let's start with how the JBL Go 2 looks.
JBL has a knack for creating devices that look and feel great. The JBL Go 2 is no exception. This mini speaker is about the same size of a block of soap and small enough to fit into most large pockets.
On top of that, the product comes with a range of colours to choose from, including orange, red, blue, green, and many more.
Measuring around 5.6 x 3.1 x 7.1 cm and weighing only 186 grams, the JBL packs a lot of excellent performance into a miniature package.
The front face of the product is a robust speaker grille, and on the top panel, you'll find the controls you need for power, volume, Bluetooth, and more
There's a right panel for quick charging, and a bottom panel with tiny rubber feet to stop it from slipping all over the place when the music is pumping.
Although there's nothing particularly special about the appearance of the JBL Go 2 speaker, the design is still worth bragging about. It's simple, clean, and compact – plus, with an IPX7 rating, it's also totally waterproof.
JBL Go 2 portable Bluetooth speaker specs:
Size: 8.6 x 3.1 x 7.1 cm
Weight: 186g
Lithium battery (5 hours charge)
High-performance sound driver
A built-in noise and echo-canceling for calls
Wireless Bluetooth streaming
IPX7 waterproof rating
12 colour options
JBL Go 2 review: Features
There's only so much you can do with a speaker that fits into the palm of your hand. But JBL knows how to transform the standard pocket speaker into something you can't imagine living without.
The JBL Go speaker comes with a mono speaker with a 3-watt output – more than enough to crank up the volume in virtually any room or car.
Additionally, there's a microphone built-in so that you can take voice memos or manage calls hands-free if you're busy in the kitchen or bathroom.
Since the JBL Go 2 is completely waterproof, there's no need to worry about getting it wet if you want to listen to your favorite music in the shower.
The great thing about the JBL Go 2 is that you feel completely comfortable taking it with you wherever you go. It's so conveniently sized that it can follow you around the house while you shower, clean, or even cook your dinner.
We didn't take the initiative to throw it in a lake, but we do know that it stands up well to the occasional splash or some kitchen steam.
The only thing that lets the JBL Go 2 down feature-wise is the fact that it lacks some much-needed battery life.
Five hours is great, but you only get that when playing at moderate volume.
On the plus side, for less than $30, you get one heck of a speaker, with features like:
High-quality noise cancelling
Microphone for speakerphone calls
Quality sound wherever you go
IPX7 rating for waterproofing
Wireless Bluetooth streaming
5 hours of playtime
Audio cable input
There's nothing particularly advanced here, like the ability to charge your phone from the speaker or connect it to Amazon Alexa. But, for a budget speaker, you wouldn't expect the JBL Go to knock functionality out of the park.
JBL Go 2 review: Connectivity
Connectivity wise, the JBL Go 2 speaker gives you exactly what you expect – a quick and easy connection to your smartphone. There's a dedicated Bluetooth button at the top of the device, so you can easily link it to your smartphone in a matter of seconds.
If you're having trouble with Bluetooth for any reason, then the JBL Go 2 will also connect to your devices via an aux cable, so you can just give up and go that way instead.
There's no built-in app for your smartphone where you can manage the EQ or make changes to your playlist. You'll generally just control your speaker using the basic music features on your smartphone.
The JBL Go 2 also doesn't come with any advanced smart assistant features that we could find, but it still performs quite well without this functionality.
JBL Go 2 review: Performance
The JBL Go 2 portable Bluetooth speaker is the kind of device that delivers a consistent and reliable experience time and time again. It's not going to blow your mind with any LED light-shows or advanced wireless charging features.
However, it is going to give you a great way to listen to your music wherever you go, without compromising on sound quality.
Despite its tiny size, the JBL Go 2 is excellent at cranking out tunes at an amazing volume. Even at just 50%, this fantastic device will give you all the volume you need to fill a small room.
We do recommend not allowing the speaker volume to go too high, as it can suffer from some distortion.
While there isn't a great deal of bass here, you can find some smooth and tight mid and high-levels, which is enough to open up your music collection. The sound quality here is basically what you would expect from a mono speaker – reliable, but not perfect.
Once again, the main thing that lets the JBL Go 2 down in performance is its limited battery life. Even the JBL Clip offers double the power at 10 hours of charge.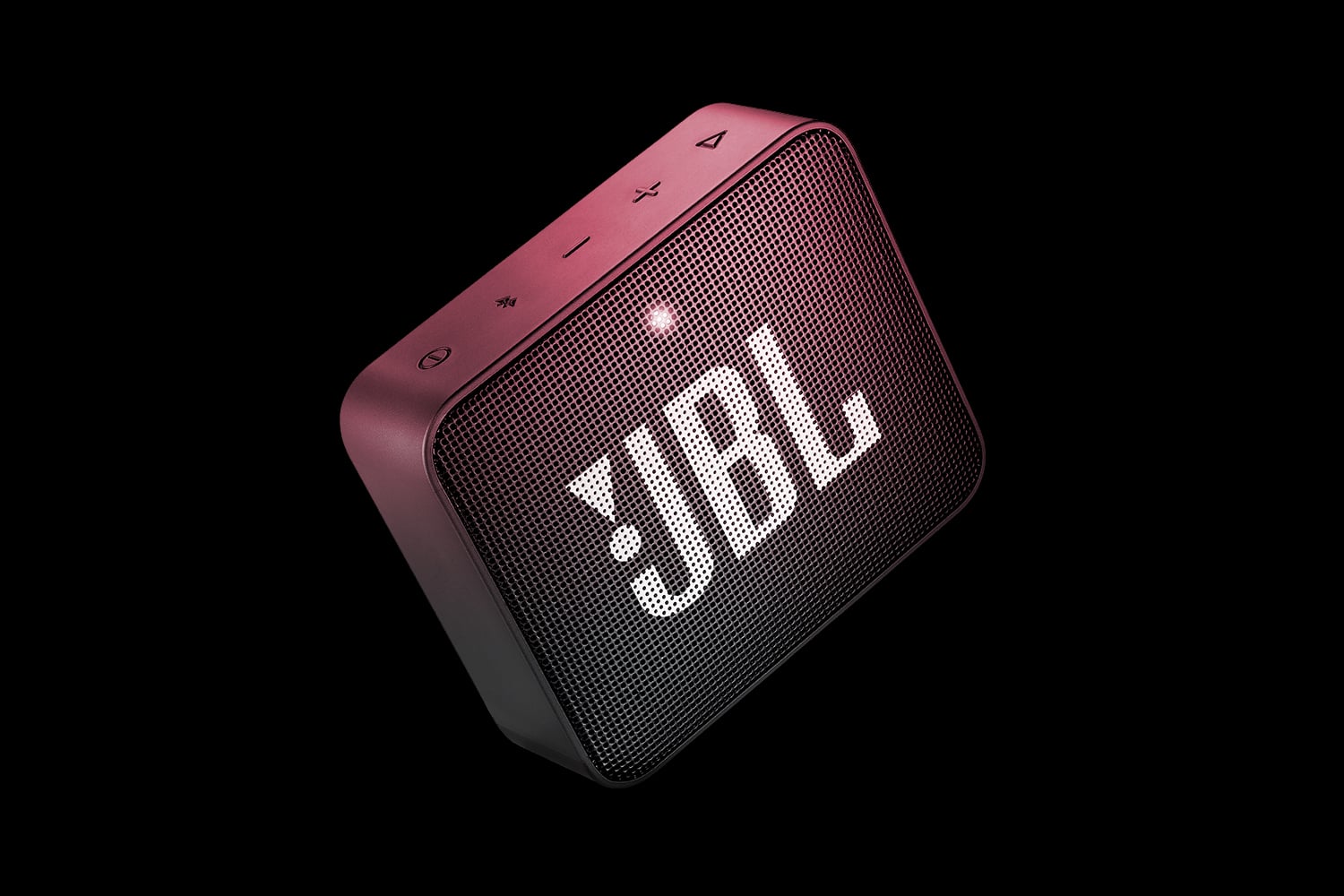 If you're looking for the smallest Bluetooth speaker you can get without compromising on sound quality, then the JBL Go 2 is a great choice. It's a fantastic little speaker with tons of volume to offer and excellent durability. Unfortunately, it's not perfect.

The physical size of this speaker and the fact that it only has one driver means that you're limited in the kind of sound quality you can really get. The bass performance isn't as good as it could be. Still, for the price tag, you really can't grumble at a speaker like this.
Good
IPX7 waterproof design
Solid audio performance
Excellent volume quality
Very easy to use
Good Bluetooth connection
Microphone built-in
Range of colour options
Portable design
Bad
Not the best level of bass
Not enough battery life
Limited in terms of sound performance
Some distortion at high levels
No super-advanced features