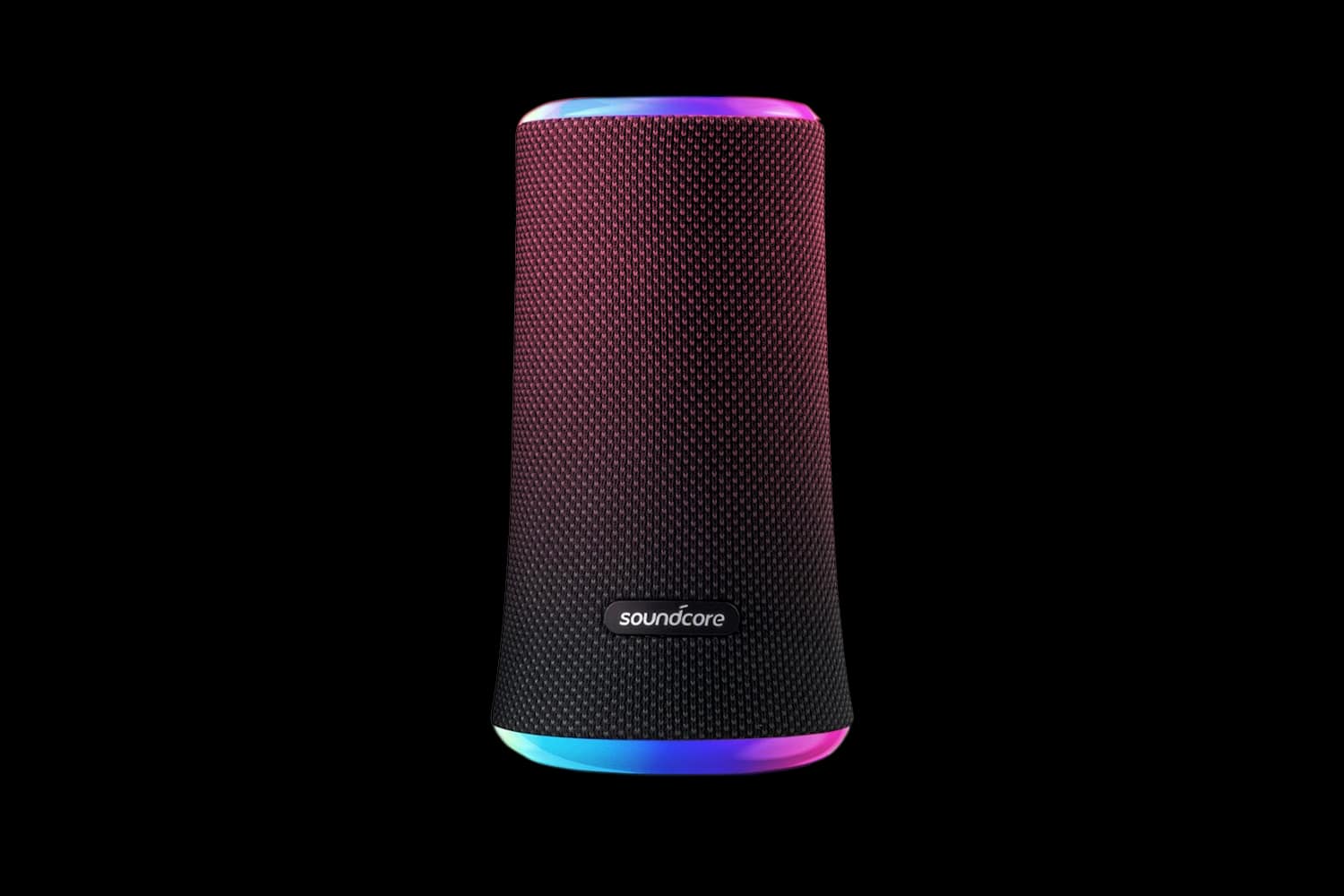 Anker might have earned a reputation as one of the most reliable portable battery brands around, but it can also offer a lot more than this.
This innovative technology company has recently dived into the realm of Bluetooth speakers with the arrival of the Soundcore sub-brand.
In the last couple of years, Soundcore has delivered a variety of fun and durable portable speakers, providing the perfect blend of style and performance.
The Soundcore Flare, one of the most eye-catching options on the market, grabbed the attention of the marketplace with its ring of vibrant LEDs, as well as its waterproof design.
Now we're here to discuss the younger sibling of the Anker Soundcore Flare – the Flare 2.
This IPX7 speaker comes with the same 360-degree immersive sound, a new light show, and countless other features to make it stand out.
Let's jump into the review.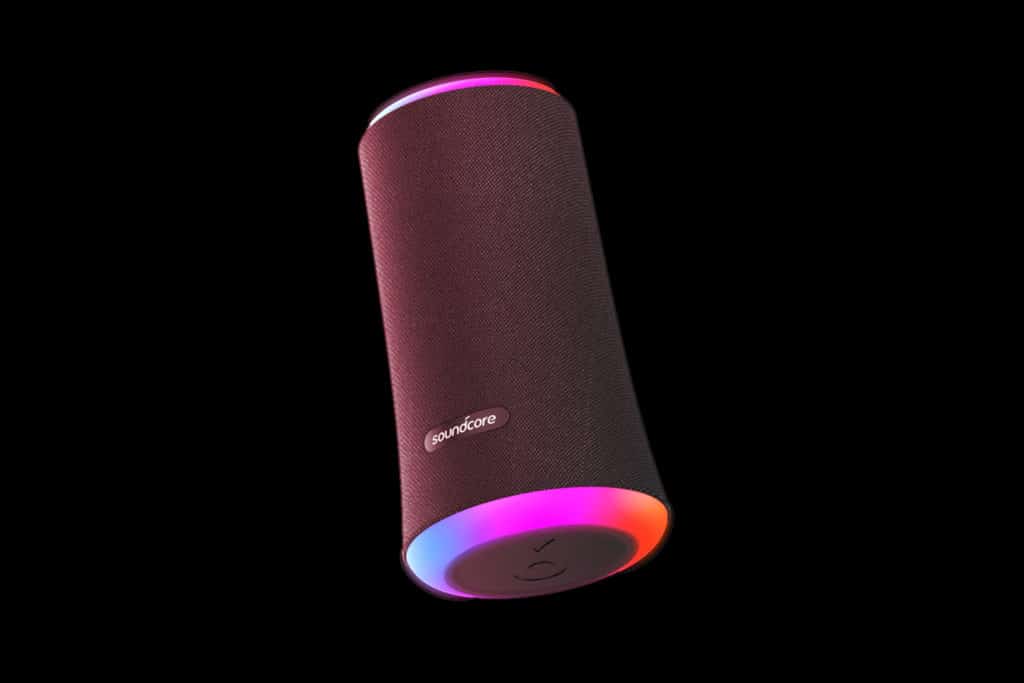 Anker Soundcore Flare 2 review: Design and size
The Anker Soundcore Flare 2 is pretty similar in style to the initial Flare, but with a few significant differences. You're still getting a portable and waterproof speaker that comes with a slightly flared bottom, making it look almost bell-like in shape.
Additionally, like the original Soundcore Flare, the Flare 2 also comes with an LED light show ring built-in.
However, this time, instead of just getting the lights on the bottom device, you can also make them pulse and vibe along with your music on the top of the speaker too.
The material used to cover the Soundcore 2 is also a little sleeker and more modern, intended to fit with the style that leaders like Bose and UE are creating today. The cloth coating still keeps the grille in excellent condition though, protecting internal workings from any dust.
There's a covered USB slot for charging, although we couldn't find any headphone socket, which is a bit of a shame.
On the other hand, the lack of external ports does mean that it's easier for the Flare 2 to maintain its waterproof IPX7 rating. That means you can submerge your device in a pool of up to 1 meter.
Anker Soundcore Flare speaker specs:
Size: 8.9 x 8.9 x 16 cm
High-performance Bluetooth connection
Weight: 585 grams
USB connectivity
Multiple lighting and illumination modes
360-degree sound
IPX7 waterproof
Stereo audio pairing
Twin rare-earth drivers
One thing you may notice is that the Soundcore Flare 2 is a little heavier than its counterpart. Although the difference is so minimal that it's unlikely to be a problem.
Anker Soundcore Flare 2 review: Features
Everything about the original Anker Soundcore Flare was designed for simplicity and great performance, at a reasonable price point.
It's no surprise that the second edition maintains the same values. The buttons are easy to use and located on the top of the device, so they're easy to find.
Additionally, voice assistant control and call management options are built-in thanks to the presence of a microphone.
Despite being small enough to toss into a backpack at a moment's notice, the Flare 2 packs plenty of punch feature-wise. It comes with a 360-degree sound that livens up any room with at least 20 watts of volume.
Additionally, like the previous Flare, the Flare 2 can also link to up to 100 other Soundcore speakers at the touch of a button.
Probably the most exciting features of this Soundcore speaker are linked to its included smartphone app. The app comes with everything you need to adjust the sound profile of your speaker, as well as changing various lighting modes too!
For a sensational price of just under $80, features include:
Partycast technology to sync up to 100 speakers
Light and sound syncing
Bass up technology with DSP chip
Dual bass radiators
Multiple custom lighting modes
IPX7 waterproof
12 hours of playtime from a 5,200 mAh battery
USB-C charging
Keep in mind that you only get the 12 hours of battery life promised by the Anker Soundcore Flare 2 if you're not using extra features, like the lighting and bass boost. If you want a light show with your music and deeper tones, you can expect around 7 hours.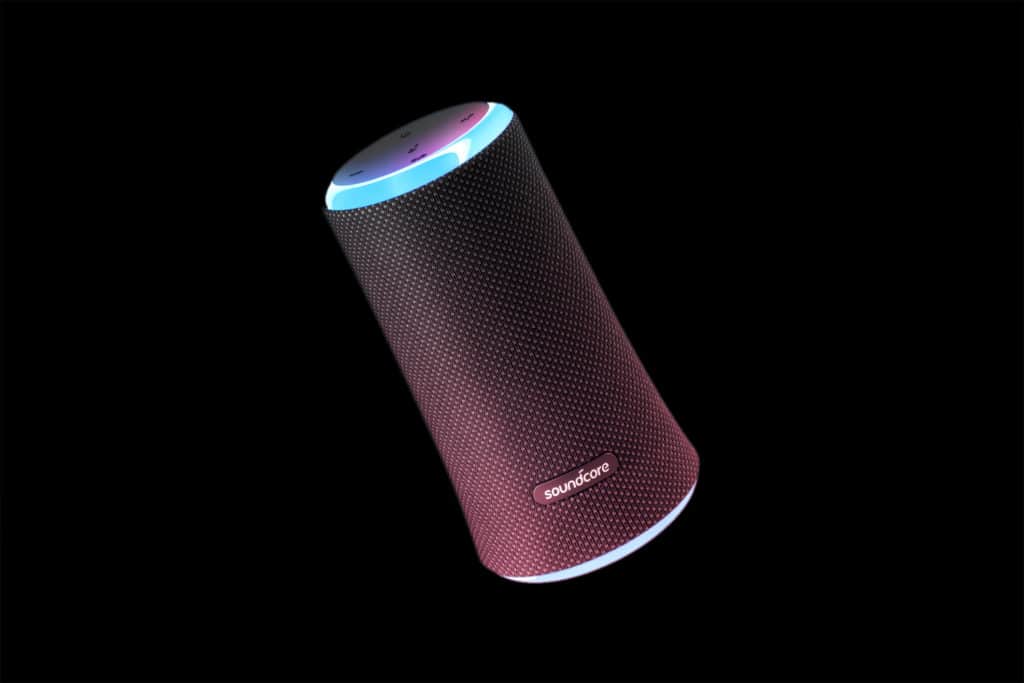 Anker Soundcore Flare review: Connectivity
So, how does the Soundcore Flare 2 fare when it comes to connectivity?
Well, as we mentioned above, there doesn't seem to be any aux-in ports for your headphones, and you can't connect an external device unless you're using the charging cable supplied. As a Bluetooth device, however, the Flare 2 definitely gets the job done.
After turning on your device, you can hold down the Bluetooth button for three seconds to get it into pairing mode. From there, you should see a white blink and hear a series of tones to let you know that it's looking for a device. Another sound plays to tell you that you're connected.
Pairing your Flare 2 with another Anker product is just as simple. However, many speakers you want to sync, you just hold their Bluetooth buttons and let them find each other. Just make sure that your transmitting device is only paired with a single product.
Connectivity wise, the best thing about the Anker Soundcore Flare 2 is the app. Available for both iOS and Android, it allows you to adjust your preferences and manage your music. What's more, you can even explore a range of pre-set lighting features too.
One downside is that there's no custom EQ option. You'll need to stick with one of the pre-sets that the Anker team has already designed.
The good news? You can add bonus bass to any mode.
Anker Soundcore Flare 2 review: Performance
Sometimes, when you get a speaker that combines both sound and a light show, the sound aspect begins to dwindle a little. Fortunately, Anker's Soundcore Flare 2 doesn't rest on a novelty.
The performance is surprisingly good, with a 360-degree array that fills any room with an amazing experience. You can even adjust bass as you go by hitting a button on the device.
If you want to tweak the sound even further, then there's always the option to head onto the Soundcore mobile app. This will give you an on-demand equalizer that you can use with various presets.
Additionally, you can also check out a few tutorials on how to make your speaker sound great.
On its own, the Soundcore Flare 2 offers a pretty decent amount of volume and plenty of great depth. The sound hits the high notes perfectly well while leaving room at the bottom end too.
What's more, the option for extra bass is always a nice touch.
Of course, if you decide to use the pairing feature with the Flare 2, then you can also link your initial device to up to 100 other speakers, which gives you even more scope for extra volume.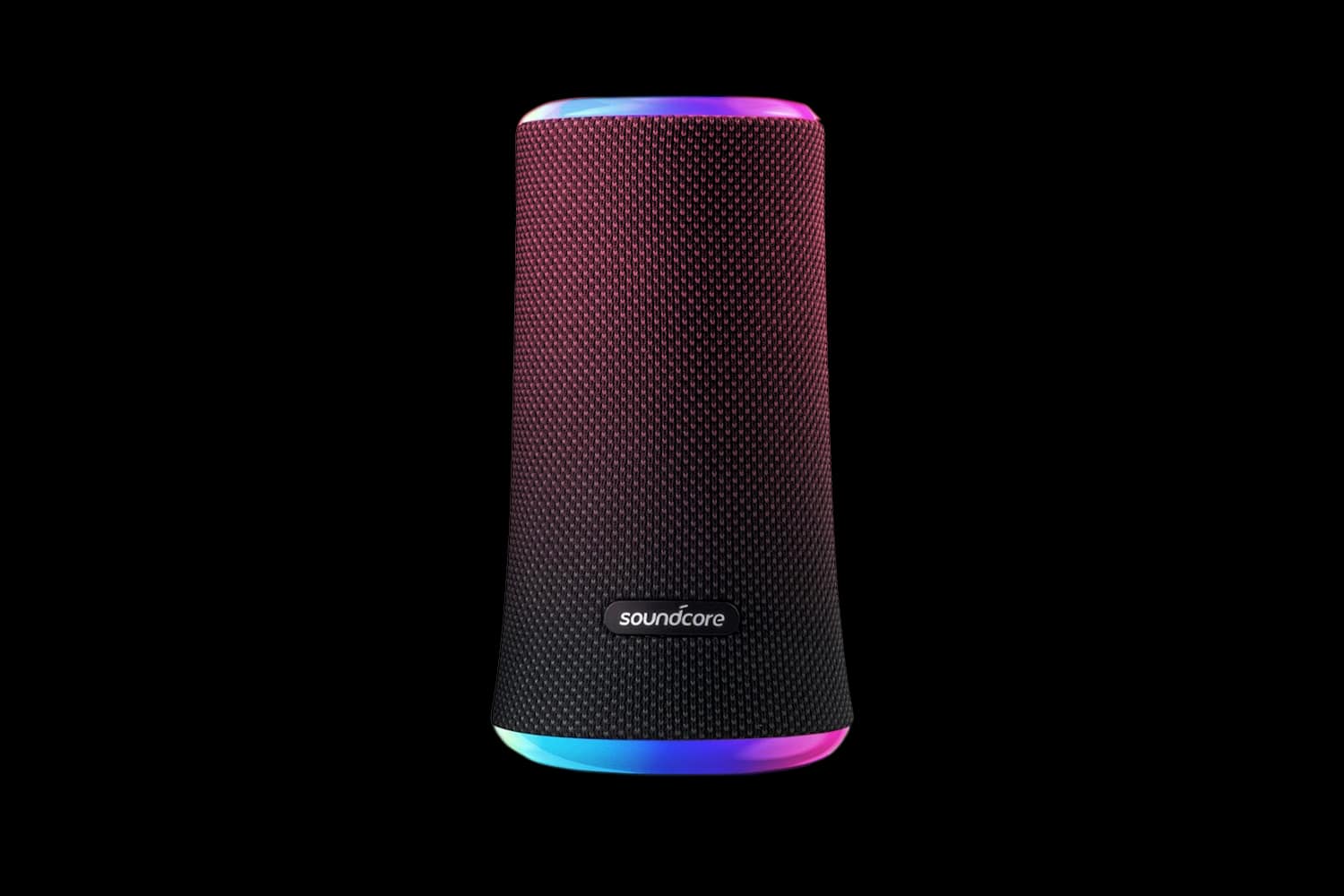 Anker Soundcore Flare 2 review: Verdict
The Flare 2 by Anker is a compelling Bluetooth speaker that follows in the impressive footsteps of its predecessor.

It's a bit of a shame that there isn't any aux-in cable, and it's worth noting that you don't have complete control over the EQ set-up, but there's still plenty to love about this portable device.

For the price, it's hard to find a similar small-scale speaker that delivers this much fun!
Good
Fun light show that syncs with other speakers
Pairs with up to 100 other devices
Excellent modern design
Fantastic bass-up function
EQ control with included smartphone app
Easy to use
Excellent Bluetooth connectivity
IPX7 waterproof protection
Alexa and microphone compatible
Bad
Limited control over the EQ
No audio port for a headphone